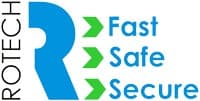 Door and Gate Automation Solutions
A wholly owned Australian company supplying the door and gate automation market in Australia and overseas since 1999, Rotech has built a reputation as a trusted supplier offering customised solutions, specialist technical advice and expertise.
The demand for quality automation and access control systems in Australia is increasing more than ever.  With close links to European companies, we keep up to date with developments locally and overseas to source new products suitable for Australian operating environments.  Safety and security without comprising speed and efficiency are high on our agenda.
State-of-the-art Vehicle and Pedestrian Access Control Solutions
We have automation products to suit every application. Our constant review, updating and expanding of our product range ensures that no matter what the industry Rotech has the solution.
Our standard product range includes:
Vehicle Access Control
Boom Gates
Sliding Gate Openers
Swing Gate Openers
Industrial Door Operators
Solar Powered Equipment
Pedestrian Access Control
Full Height Turnstiles
Waist Height Turnstiles
Flap Barriers
Pedestrian Access Gates
Accessories
Loop Detectors
Safety Beams & Light Curtains
Access Control Systems & Keypads
Long Range Remote Radio Control
Customised Gate Operators and Access Control Solutions for Industrial and Commercial sites
Customised solutions are our speciality. We have engineered special boom gates, full height turnstiles and door operators for Queensland Rail, BHP, Aldi, Shell and many other large corporations.
We have a fully equipped workshop staffed by qualified personnel, who can design, manufacture and customise automation equipment for any application. We are certain that with our extensive range, many years of industry experience and high level of expertise, we can provide you with a customised solution to suit your need.
Rotech Customers
Our mission is to supply reliable innovative products that are suitable for a wide variety of Australian industrial and commercial applications.
Our customers comprise businesses across a broad cross section of industries including:
Electricity Suppliers
Airports and Ports
Warehouses
Food Manufacturers
Abattoirs
Mines
Hospitals
Entertainment Venues and Theme Parks
Distribution Centres
Sporting Facilities
Building and Construction Sites
Hotels
Municipalities
Factories
Schools
Rely on Rotech to Supply the Correct Type of Gate Motor
At Rotech, we strive to provide high quality products with efficient technical support and fast service for all types of industrial and commercial applications.
If you are looking for any type of vehicle or pedestrian access control products – call us today for reliable expert advice.