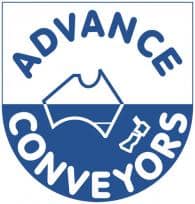 Advance Conveyors are a leading Australian-owned manufacturer of conveyor systems and material handling equipment. With over 35 years experience, Advance Conveyors is a conveyor manufacturer that ensures high productivity, lower operating costs and superior products for a range of industries. Using a superior systems approach, we examine your current operation and design the most appropriate and efficient system to suit your needs.
Products Include:
Gravity Conveyor Systems - Gravity conveyors are designed for most types of manufacturing and material handling systems. Our gravity conveyor systems some of the most efficient in the industry, both mechanically and economically.
Fairglide Shaft Driven Roller Conveyors - One of the most useful and economical conveyor designs to incorporate into an automated system design is our FairGLIDE line shaft driven roller conveyors.
Pallet Handling Conveyors - Pallet & drum handling conveyors are suitable for transportation, accumulation & storage of heavy unit loads that are otherwise difficult to move manually.
Belt Conveyors - Belt conveyors suit the movement of goods on flat or elevated surfaces when the speed of travel and the spacing of goods require control.
Sanitary & Food Conveyors - Our sanitary & food conveyor systems are designed for conveying raw products or fully processed goods in the pharmaceutical and food industries.
Mobile Booster Belts - A mobile booster conveyor system assits in the loading &  unloading of vehicles in restricted access locations.
Hymo Scissor Lifts - Hymo Scissor lifts are electromechanical lift tables extensively used in the industrial world for qualified lifting and precision positioning.
Rollex Precision Conveyor Components - We manufacture all kind of conveyor rollers, whether it is gravity, chain driven, or shaft driven rollers (lineshaft).
Longreach Telescopic Conveyors - This type of conveyor offers both flexibility and mobility in confined areas, or on trucks and in warehouse.