Motion Solutions Australia pty Ltd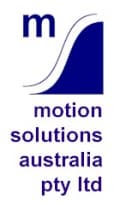 Motion Solutions Australia Pty Ltd, established in 1989, provides high quality, reliable and cost effective, precision automation equipment to ensure higher productivity for your company.
Motion Solutions Australia is both experienced and qualified to offer solutions to the majority of control applications utilising our wide range of leading edge automation products.
The products we represent are supplied by:
Parker Motion and Control, including Daedal, Hauser, SBC, Compumotor, Digiplan
Schneider Motion, including Elau Packaging Systems and Berger Lahr
Yaskawa Motion Systems
Epson Robots
Keyence Sensors, Safety Light Curtains and Bar Code Readers
Galil Motion Controllers
Advanced Motion Control, Analogue, Serial, CAN-Open and Ethercat Drives.
Helical Springs and Couplings.
PMD Motion.
Robox EtherCAT and Field Bus Motion Controllers.
Proface HMIs
Ametek Motion, including Pittman Motors.
Empire Magnetics Special Purpose Motors.
Technosoft Motion Technology.
Our support services for our products include:
Servo and stepper controller installation and programming.
PLC Programming, Temperature Controls, Sensor Applications.
Electrical System Design.
Mechanical Design.
Electrical Control Cabinet Design.
Custom Hardware Design Including Printed Circuit Board Design and Manufacture.
Software Design.
Research & Development.