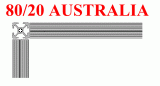 80/20 Australia
80/20 Australia
Aluminium Profile Systems, Materials Handling Machinery & Equipment
80/20 - The industrial strength "big boys" meccano set.
Endless list of applications - machine frames, machine guarding, jigs, clean rooms, workstations, etc.
Huge range of fitting components.
The only company that produces both imperial and metric sized "T" slotted extrusion.
Large range of sizes from 1" x 1" to 3" x 6" and from 25mm x 25mm to 80mm x 80mm.
All clear anodised, screws together, no welding, no painting.
Easily re-configured and re-usable.  High strength to weight ration.
Call for a FREE catalogue or on-site demonstration.
Also on CD-ROM completed with drawing files, catalogues and deflection calculator.