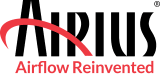 Airius Oceania
Airius is a large multi national company based in Colorado, USA, with offices in the UK, Europe, Middle East and Oceania -Sydney and Auckland.
Founded by mechanical  engineer Ray Avedon over 8 years ago and  part  of the 50 years old large manufacturing group 'Avedon Engineering', Airius is committed to saving you energy in your facilities via the use of the simple and inexpensive yet very effective Airius Air Pear® Thermal Equalizer® fan.
Our units are designed and mnaufactured inthe USA. We work closely with our fan motor supplier EBM Papst, from Germany, to ensure we have the latest most up to date energy efficiency and control  capabilites (inclusing BMS)  in our fans.
We worked together  with  Autani, a large building automation company in the US to design and create our FanCentre™ wireless Zigbee protocol automation and control  software that can be applied  to a large range of our fans.