ZIP-SIDED BOOTS SOLVE THE WATERPROOFING DILEMMA
04-06-2018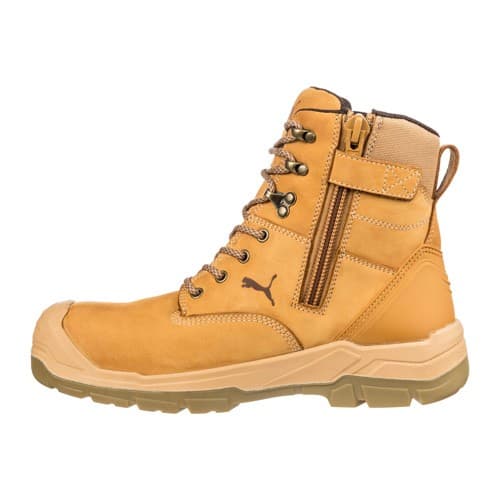 Trading Downunder has a new range of zip-sided safety boots under the Puma Safety brand, which were designed specifically for the Australian market.
The fully waterproof new 7-inch Conquest styles incorporate a breathable waterproof membrane and webbing in the zip area of the boot. This addresses one of the major drawbacks of zip-sided boots - water getting in through the zip area. The holes in the waterproof membrane are sized such that sweat vapour can pass out, but a water molecule cannot pass in.
Available in Nubuck Wheat or Nubuck Black leather, the Conquest also features an anti-perforation midsole, which offers increased protection against penetration of sharp objects through the sole - a feature particularly beneficial for those who work on construction sites.
In addition to the new Puma Conquest, the Tornado zip-sided boot is also on offer; this is a lower cut version for those who are not working in extreme conditions, and does not include the waterproof membrane or anti-perforation midsole.
Both Conquest and Tornado feature a 300°C heat resistant, slip resistant, rubber outsole with a mud clearing profile and a glass-fibre toe cap with a 200J impact rating. They are certified to Australian standards AS/NZS2210.3 2009 Class1 and electrical hazard rated to ASTM F2413 Standard (USA).
Trading Downunder
02 8678 1546
www.tradingdownunder.com.au