ZASCHE handling introduces innovative, lightweight series of carbon-fiber material handling solutions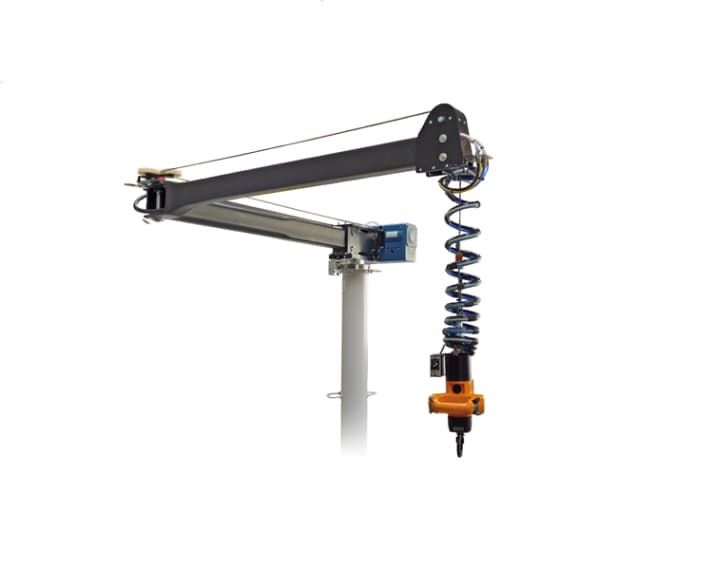 ZASCHE handling, a leading provider for load handling technology, unveils its new series of carbon-fiber handling solutions. Engineered in close consultation with a renowned German university, the low weight Carbon series offers high performance that does not compromise on safety. The product is available globally in articulated arm and lifting axle formats.
With this launch, ZASCHE is proposing a new way forward in industrial material handling. Compared to regular industrial manipulators, the Carbon series realises impressive weight savings, providing users with an efficient manual handling device of very low inertia. This feature improves significant ergonomics on the shop floor, as it ensures that device dead weight is kept lower than a workpiece's mass.
"Often, workers fall back into old ways when new equipment does not seem to improve working conditions," said Erwin Wagner, Managing Director, ZASCHE handling. "Our product development process considers the fact that manual workstations are subject to increasingly higher requirements of ergonomics and hand forces. At ZASCHE, we are dedicated to delivering solutions that meets customers' felt needs, and the Carbon series attests to our commitment."
It boasts a sophisticated modular system, with specialised end effectors for various applications — clamping gripper, vacuum gripper, pure mechanical, etc. It is equipped with pneumatic controls for best levels of sensitivity and there is choice of simple up/down control or multi-load balancing controls
Articulated arm
Payload – up to 80 kg
Maximum working radius – 3.8 m
Several options of lifting controls available
Floor- or ceiling-mount possible.
Lifting Axle
Payload – up to 80 kg
Torque – 400 Nm
Stroke – up to 1,200 mm
Dead weight – 18 kg.
All-new Virtual Showroom
Additionally, ZASCHE is pushing out an interactive Virtual Showroom on the website to provide an immersive digital experience of its products for customers. The new feature helps visitors to better understand various equipment's functions and offers 3D visualizations of how the product elements come together to form a complete solution.
"Before the pandemic, our customers used to be able to personally experience ZASCHE's solutions with their work pieces. Even as travel restrictions gradually loosen, we're mindful to offer alternatives to those who can't yet visit our physical showroom. The team is committed to serving our customers the best we can, and we'll continue evolving to stay ahead," Mr Wagner said.
ZASCHE handling — the world's leading provider for load handling technology — develops and supplies customized, ergonomic solutions that caters to every industry and application. Founded in 1932, the company has a large portfolio of products that reflects its rich history in steel and crane construction, and its deep expertise as an industrial handling specialist.
A member of the Accuron Industrial Technologies Group, ZASCHE handling is headquartered in Nördlingen, Germany, and has a branch office in Shanghai, China.
For more information, visit www.zasche.de/en.