Materials Handling & Equipment
Your process matters to Teralba's Mixquip specialists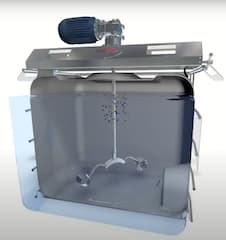 Intermediate bulk containers, or IBCs, revolutionised the storage and transport of bulk liquids. Now Mixquip has taken it to a whole new level with its Rummager Series 200 IBC Bridge mounted mixers, a cost-effective alternative to fixed process equipment.
The Australian-made Mixquip Series 200 from Teralba industries is a flexible all-in-one mixing option for fast, efficient and effective blending. Its new Toro-Jet impeller focuses on technique rather than speed to deliver next generation agitation with a single impeller. It is suited to a wide range of viscosities.
'Your process matters' is the mantra of the Mixquip mixing specialists at Teralba. And to ensure that customers make the decisions that are right for them, they offers a free process evaluation.
To find out more about Mixquip's products, call 1300 20 70 20 or visit www.mixquip.com