Your gateway to success
31-08-2010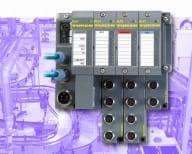 New release … the BL67 Ethernet gateway from TURCK
TURCK Australia has released the BL67 Ethernet gateway for Ethernet/IP and Modbus TCP/IP. 
Designed to provide a reliable communication solution for on-machine, modular I/O applications, the BL67 is ideal for use in environments where conditions may not be conducive to traditional I/O. 
The BL67 satisfies applications requiring digital or analog inputs and outputs, specialty I/O such as SSI and RFID and serial inputs to Industrial Ethernet networks.
Featuring TURCK's unique Multiprotocol technology, the BL67 gateway combines multiple Ethernet protocols in a single device, yet only allows one Ethernet master to control the outputs while the input and diagnostic data is available to the other protocols. The BL67 offers isolated power for 16 inputs and 16 outputs, in addition to 16 I/O configurations for flexible application requirements. 
An integrated Ethernet switch allows a line topology between multiple gateways without using an external switch, eliminating the need for additional cable runs to the PLC.
"The TURCK BL67 Ethernet gateway with Multiprotocol technology offers users the exclusive advantage that does not require them to configure their device based on the Ethernet host system that will be deployed," said Randy Durick, Director, Network & Interface Division, TURCK. "This simplifies operations for our customers who manufacture or design equipment for an end-user base that has differing preferences between Industrial Ethernet protocols."
The BL67 ensures durable performance with models available in IP67-rated housing.
TURCK Australia
Ph: 1300 132566