Is your business an insurance risk?
31-08-2010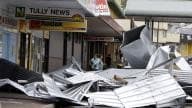 With a few clicks of a mouse insurers can now determine whether your business has a high risk of being exposed to a natural disaster.
The new technology, developed by NIIT Technologies, a global IT solutions organization, can quickly and accurately assess whether a business' location is susceptible to catastrophic events such as cyclones, floods or bushfires.
Called EXACT Advantage, the technology uses a unique, sophisticated mapping system to provide rapid analysis of disaster locations anywhere in the world. 
This risk management tool enables an underwriter to make a rapid assessment of whether a particular submission should be evaluated in detail, easily accepted, or rejected.
EXACT Advantage, which is now used by leading global insurance and reinsurance companies across the UK and Europe, is now available in Australia.
The application provides underwriters and insurance brokers with a powerful tool to proactively assess risk across all lines of business, with a key focus on commercial and specialty insurance markets.
"If individuals or companies have high value assets at risk from flood, fire or wind, insurers and underwriters need to know in more detail than ever before exactly what their exposure is," said Mr Ian Forwood, Sales Director, NIIT Technologies (UK).
The new system, which uses a combination of Google maps and other sophisticated "Geo-coding" technology can pinpoint the exact latitude and longitude of the premises to be insured and immediately assess the peril. 
"This not only helps an insurer to assess the vulnerability of a property or facility, but also what the consequences are if more risk is added to a particular location," Mr Forwood said.
Recent natural disasters such as the Queensland floods, earthquake in Christchurch, floods in Thailand and more recently Cyclone Sandy in New York, have strengthened the need for technology of this kind.
Mr Arvind Mehrotra, President, Asia Pacific, NIIT Technologies said the insurance industry experienced a 63 per cent increase of loss load last year.
Worldwide economic losses amounted to $US370 billion and insured losses totaled about $US116 billion.
"The earthquakes in Japan and New Zealand, for example, and hurricanes Irene and Katia in the Atlantic caused tragic loss of life as well as serious damage to property and essential infrastructure, Mr Mehrotra said.
"EXACT Advantage provides a central resource with powerful capabilities for managing exposure across a broad range of business lines."