YOUNG AUSSIES TAKE ON THE WORLD IN WORK SKILLS COMPETITION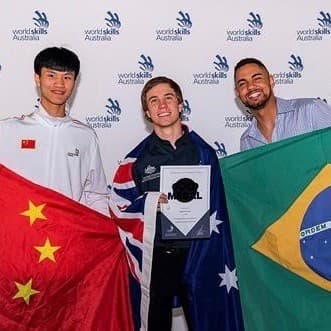 WorldSkills is the world's largest work skills competition for young people in vocational training. From 22nd to 27th August, more than 1400 apprentices and trainees from 67 countries and more than 55 areas of expertise will meet and compete in Kazan, Russia. Among them will be 15 young Australians known as the Skilleroos, aiming for a top five finish overall.
Once again, the technical focus of the competition will be on KNX, the world's leading standard in the smart home and building sector (ISO/IEC 14543). The competition has been using KNX as its technical basis for 10 years.
The competitors not only have to prove their comprehensive expertise but also demonstrate their capabilities in organising work, concentration, problem solving and flexibility, among other things.
The association that created and owns the KNX technology has great enthusiasm for the young talents. "In an increasingly complex world, technologies like KNX offer young people the best opportunities for a successful future," KNX Association President Franz Kammerl says. "We are proud to once again be the focus of the world's largest skills competition. This underscores the importance of KNX as a future technology for tomorrow's skilled workers."
WorldSkills Competition Manager Per Svensson says, "We are pleased that KNX not only supports WorldSkills but also guides a whole industry before, during, and after the competition. With KNX, we can be sure to have the best cooperation partner and the best technology for this and all the following competitions."
The association's active support for the competitors includes training and licences for KNX's single, manufacturer independent design and commissioning tool ETS before the competition, and additional expertise on site during it.