| Article appears in April 2021 Issue
Yizumi injection moulding machinery at heart of PBE-Roboplas offering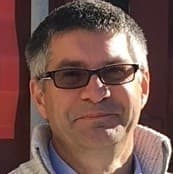 PBE-Roboplas Sales Manager and 50% owner, Gerald Frutschi.
PBE-Roboplas Sales and Service is proud of its range of plastics machinery and ancillary equipment, which covers the whole manufacturing process. The range extends from injection, blow-moulding and extrusion machines, drying and dehumidifying, loading, heating and cooling, dosing and mixing and robotic and automation equipment.
Importantly, these products help Australian plastics processors increase efficiency and productivity at competitive prices.
At the forefront of PBE-Roboplas' product offering is the flagship Yizumi injection moulding machinery. The brand is one of the biggest industrial success stories, covering almost all market requirements by offering fully electric, high speed packaging, servo hydraulic, 2 and 3 platen and vertical machines between 60 and 3,400 tonnes clamp capacity. The company facilitates complete turn-key solutions and manufacturing cells, it occupies 600,000m2 of land space globally and has more than 3,000 employees.
Sales Manager Gerald Frutschi, who owns 50% of the business, told Industry Update that his business has experienced an upturn since the onset of the pandemic, partly because businesses were mitigating the risk of compromised supply chains by sourcing locally where they could.
Gerald is confident the Yizumi injection moulding machine will help drive the business further. It offers increased energy efficiency, greater accuracy, improved repeatability, tighter tolerances, and lower noise - all at a realistic cost. 
Gerald has more than 18 years' sales experience under his belt. He took over his father's share of the business and now is the co-partner with Shaun Parker. Shaun Parker manages after sales and the service team with more than 30 years' experience in the industry.
What does the future hold? Gerald says there is a lot of talk about removing plastics from circulation, but at the end of the day it comes down to cost and convenience. He said the use of biodegradable and recycled materials was gaining a lot of momentum but is still in its infancy, likening it to the motor industry with the uptake of electric vehicles. "We will continue to keep in tune with our customer's needs and adapt accordingly," he says. 
Expansion plans include the constant search for sourcing the most up to date energy efficient equipment. "We have just expanded our range to include the latest type of user friendly six-axis robots in order to keep up with market demands and broaden our baseline capabilities."
Gerald says PBE-Roboplas, an amalgamation of two companies that have been in the business for more than four decades, has a strong knowledge base because of its history in the industry. "Our staff are very skilled; we have a good understanding of the machines and there's not a lot that troubles us. Customers find us very helpful, exceptionally fair and approachable," he said.
For Gerald and the team at PBE-Roboplas Sales and Service, providing the best customer care is all part of the package. Expert maintenance and repairs go part and parcel with that. 
Other brands offered by the company include Tool-Temp, Wemo, Crizaf, Enmair, Sinco, Ferlin and Pure Oil.