Published 30-11-2021
| Article appears in November 2022 Issue
YIZUMI bucks global trend, exceeding sales expectations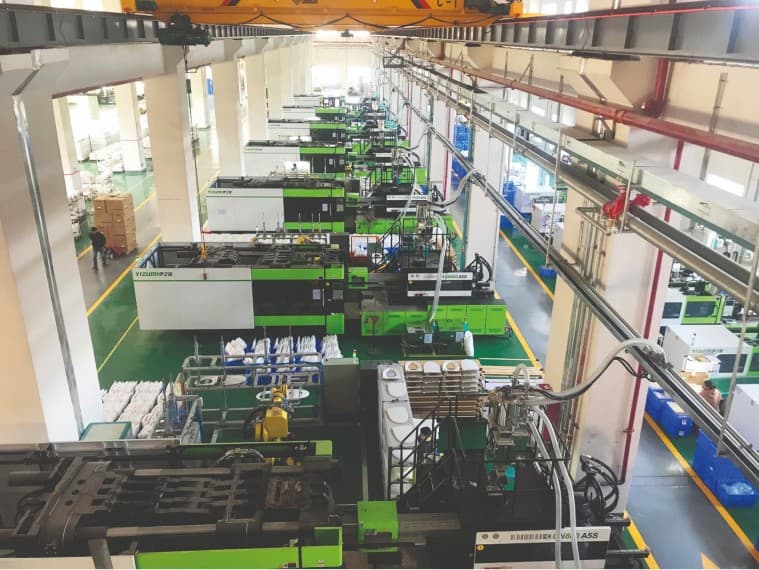 YIZUMI has bucked the downward global trend faced by the plastics industry, by recording a 40% increase in sales of injection moulding machines, exceeding CNY 2 billion.
A commitment to developing close relationships with its customer base, proactive investment in products, markets and lean manufacturing – coupled with the rapid recovery of China's domestic and export markets – contributed significantly to YIZUMI's growth.
Tao Zhang, YIZUMI Deputy Managing Director & General Manager of Injection Moulding Machine Division, believes that demand for 3C, medical, packaging, small appliances, 5G, building materials and other plastic-dependent items is particularly strong, thus leading to a sales surge in YIZUMI machines.
According to Mr Tao, this success is facilitated by YIZUMI's proactive implementation of lean production.
"The assembly line for small and medium-tonnage models was successfully put into operation in early 2020 after the introduction of the lean manufacturing model," Mr Tao explained.
"It has greatly enhanced the company's production efficiency and delivery capacity with an increase of 60% in production capacity year-on-year."
Despite the COVID-19 pandemic sweeping across the world, YIZUMI has exceeded performance in both the Chinese and international markets.
"Our uninterrupted service is still maintained even during the pandemic. Combined with the remote technical support and training provided by the YIZUMI service teams, the company generates a lot of customer confidence in its products," Mr Tao explained.
In 2021, YIZUMI added more than 30 K1 clients to its list, including world-leading auto parts manufacturers, companies in the 5G industry, brands in the building materials manufacture, sanitary ware manufacturers and the medical packaging industry.
To remain competitive in the market, YIZUMI upgraded its products in 2020 and launched several new ones including the 3200DP auto bumper moulding system, which completed the construction of all automated units and detection units required by the fully automated auto bumper moulding.
"This offers a stable system operation with rapid mould changing, high-efficient moulding process and industry-leading technical indicators, providing customers in the auto industry an integrated solution," Mr Tao said.
YIZUMI also completed the development of various multi-component machines including the 1600D1 three-colour two-platen injection moulding machine, 420A5-EU two-colour injection moulding machine, 1000A5 two-colour injection moulding machine and 260A5 hydraulic and electric three-colour injection moulding machine.
YIZUMI is stepping up its efforts to serve the global market and enhance the application capacity of integrated solutions by providing better products and services through the development of new technologies, processes and the creation of locally based manufacturing plants.
In the past two years, YIZUMI has been increasing its investment in upgrading electric injection moulding machines and independently developing the servo direct control technology (SDC), the smart clamping force management (SCFM) system, the smart injection control technology, closed-loop injection pressure control technology and the contact-free tie bar technology and built-in hydraulic pump station. While improving the core performance of precision injection moulding, these technologies make the machines cleaner and more adaptable to products and moulds.