YELLOW JACKET: BRIGHT NEW STRETCH WRAPPING TECHNOLOGY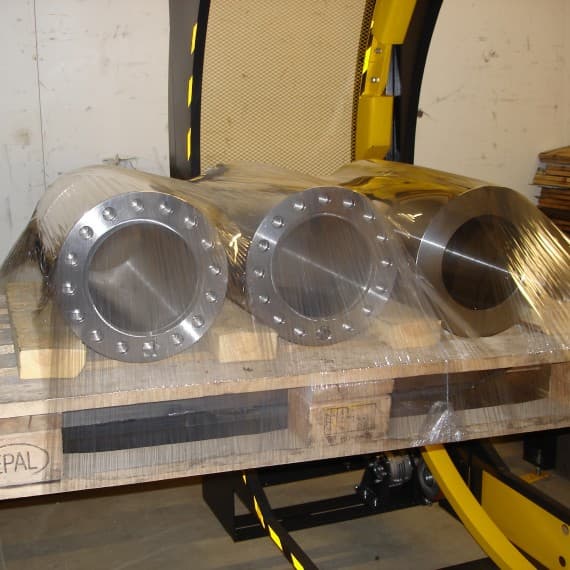 Yellow Jacket is a horizontally positioned, orbital stretch-wrap machine that secures standard, abnormally shaped, long and other load types firmly to pallets whilst on the forks of any forklift.
It moves around and under the pallet's contents, as it is automatically advanced along the length of the load, to significantly minimize the time it would take to wrap a load by hand. The forklift driver need not leave their fork truck.
A load that normally takes two workers about 10 minutes to wrap by hand can be wrapped by one worker in one minute.
And most importantly it decreases potential employee injuries and reduces the labour needed to protect loads for shipping.
It also eliminates the need for other strapping materials or expensive cartons to secure loads – further reducing cost.
When securely wrapped to the pallet, is near impossible for the load to shift, fall or slide in transit. This method is a killer for load stabilization and superior protection against damage, dust and wind.
Also, Yellow Jacket equipment unitizes and bundles products. Non-standard and long pallets/skids are easily accommodated.
Orbital stretch-wrapping eliminates hand wrapping, banding, strapping.
Yellow Jacket's customers have reported saving from $20,000-$50,000 a year in labour costs alone, with an excellent return on investment potential.
It is ideal for any non-consistent sized, unusually shaped components, products from laser/water cutters, toolmakers, workshops, machinery and parts distributors.
In fact, if it looks difficult to wrap it probably needs a Yellow Jacket.
The Yellow Jacket orbital stretch-wrap machine is now available from Materials Handling Pty Ltd to have you Working with Ease.
Materials Handling Pty Ltd
Ph: 1300 650 035