Yanmar Diesel Mine Blaster
29-11-2012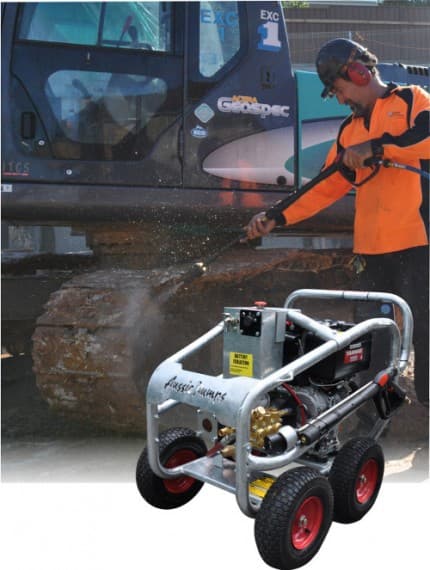 A new Yanmar powered 'Aussie mine spec' high pressure water blaster is the latest development in the Aussie Scud 'revolution'. Australian Pump has released the new diesel blaster in response to demand from the mining and construction industries for a machine that complies with the National Mine Specification MDG15.

The power for the Aussie Scud diesel cold water blaster is provided by a fuel efficient, compact, low vibration, L-N series Yanmar 10HP electric start engine. The capability of this engine, with it's direct injection technology, combined with the new series of Bertolini high pressure triplex pumps has enabled development of this punchy 4,000 psi blaster.

The higher pressures mean cleaning times are cut, maximising efficiency and reducing the amount of water and fuel used. The new Yanmar Mine Scud also offers users additional safety features that set a new standard in cleaning equipment.

 "The Mine Scud system is all about cost effective cleaning with minimal impact on the environment," said Aussie Pumps' product manager Adam Scully. "Developing a 4,000 psi 'mine spec' Yanmar blaster was the next obvious step for the program. These blasters offer the benefits of greater fuel economy with lower through life costs. The emergency stop switch is incorporated with the battery isolation as part of the standard kit," he said.

"We chose the L-N series Yanmar air cooled diesel engines for their efficiency, performance, features and top quality," said Scully. "The pairing of this engine and Aussie's design makes a powerful package," he said. The Yanmar engine warranty is two years and is backed by a first class after-market support from a national service station network.

The pressure for the system is provided by a new TTL series "Big Berty" Bertolini triplex piston pump backed up with a comprehensive three year  warranty. The new series feature the latest developments in pump design from the Italian manufacturer.

The Mine Scud features an ergonomic, 38mm galvanised steel frame that incorporates a lifting bar.  The lifting bar can also double as a mount for an 'easy fit' high pressure hose reel. A hose reel kit simply bolts on to the bar. It can store of up to 50 metres of high pressure hose, allowing more convenient cleaning of large equipment.

The mine spec blaster is loaded with safety features including an emergency stop, battery isolator and frame mounted fire extinguisher. Like all Aussie professional blasters, the units come with a top quality 10 metre high pressure double wire braid, hose. A professional 5,000 psi rated soft trigger gun and double stainless steel lance infinitely, varies the flow and pressure of the machine. It also activates detergent pick up.

Aussie Pumps registered frame design is finely balanced enabling operators to move the machine easily on site.

 "Customers who have handled the new style blasters just fall in love with their looks and the ease with which they can be moved," said Scully. "They look like a cross between a Bobcat and a Ferrari," he said.

A complete range of labour saving accessories that make the operator's life easier, get jobs accomplished faster, and provide better cleaning results are all part of the package. They include top quality turbo lances boosting the machines effective working pressure to an impressive 6,500 psi. The turbo is used to clean mud off crawler tracks, dump trucks or motor scrappers. It dramatically reduces cleaning times and improves efficiency.

For further information on the new Aussie Scud range contact Australian Pump Industries or Aussie Pump Distributors throughout Australia and the South Pacific.