YALE PALLET STACKERS ARE DESIGNED FOR ANY WAREHOUSE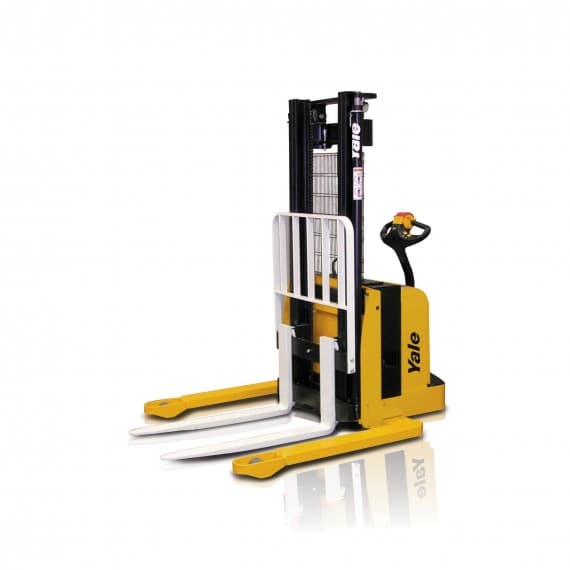 When a warehousing application demands dependability, you can't go past a Yale Pallet Stacker. 
From the pedestrian warehouse stacker to the counterbalanced stacker, each Yale model is specifically engineered to optimise materials handling operations in whatever space is required.
With more than 50 different Yale stacking solutions currently available, as the foremost warehouse specialist, Yale warehouse stackers effortlessly place loads exactly where you want them.
Yale pallet stackers also combine innovative design, industrial-strength components and state-of-the-art manufacturing.
That is why the 140-year old Yale company is a leading global provider of warehouse solutions.
According to NACCO Materials Handling Group, General Manager – Pacific & Big Trucks, Ian Neilson, it's their rugged and reliable design that makes Yale the perfect choice for any warehouse application.
"Yale Pallet Stackers provide productivity and superior quality in warehousing applications, which is why many operators prefer Yale Pallet Stackers for their warehouses," Mr Neilson said.
"As warehouse specialists, we have engineered Yale Pallet Stackers to last, and coming with a long list of standard innovations like superior stack ability and reliability on the loading dock, our pallet stackers quickly prove their worth as an integral part of any industrial materials handling solution."
Straddle stacker
The MSW025F-30F-MSW040E straddle stacker is ergonomically designed to improve comfort and reduce fatigue, while the innovative control handle and fingertip variable lift and lower functions greatly enhance efficiency.
Designed to require minimum servicing time, the forklift's auto deceleration system takes pressure off the brakes allowing for less wear.
The MSW025-030F straddle stacker truck excels in work environments or on a back dock with two or three levels of stacking. It has been designed using a separate drive motor in conjunction with an advanced transistorised hoist and traction controller to enhance performance and reliability.
Walkie Reach Stacker
Yale MRW020-30E trucks extend time on the warehouse floor with features that enhance productivity, including a separate drive motor and transistorised hoist and traction controller.
Designed for minimum maintenance, the MRW020-30E truck is easy to service and includes fill and drain plugs to ensure adequate lubrication.
The MRW020-030E excels in manufacturing and warehousing applications where space utilisation is crucial and load widths vary.
To learn more about Yale products and services, visit www.yale.com.au
NACCO Materials Handling Group
Ph: 02 9795 3800