XL MATTING: A CUT ABOVE THE REST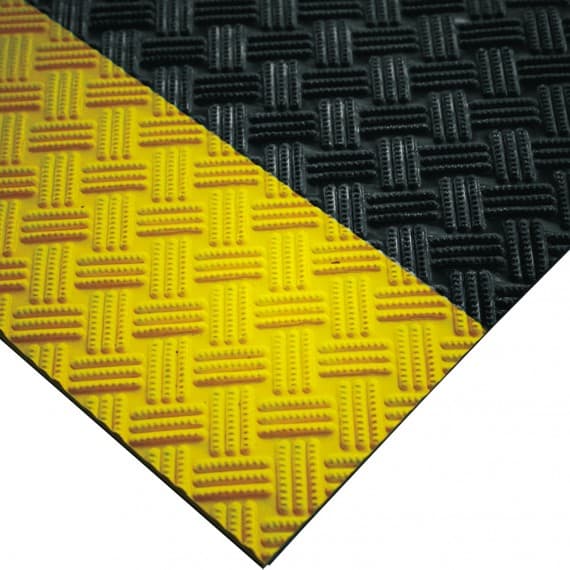 Industrial anti-fatigue matting needs to have special characteristics if it is to do its job well. 
XL Matting, a laminated foam mat consisting of a tough, vinyl top surface bonded to a resilient foam beneath, has all these characteristics and then some.
First up, of course, is that the foam constituent of the mat must truly be anti-fatigue. 
To achieve this the foam must not merely be soft. 
Soft foam can be deceptive when it does not have resilience or bounce. 
It is resilience or an ability to bounce back when deformed by weight being applied to it that generates the anti-fatigue effect. 
That resilience creates, without conscious effort, the foot movement that improves blood circulation in feet and legs and it is the improved circulation that enhances anti-fatigue qualities.
Unique to XL Matting is the clever serrated top surface pattern that creates an excellent non-slip surface, so important in an industrial setting. This makes it superior to non-serrated moulded patterns.
Not only is the pattern serrated, but it runs in alternating directions which enhances the slip-resistant quality.
Naturally XL Matting comes with moulded-in bright yellow easy-see borders along the edges of the tough, puncture-resistant vinyl top surface as a safety feature.
Borders and ends are beveled for additional safety.
However, where the bright yellow edging is not required an attractive, all black surface is available as an option.
The foam has a further valuable characteristic – it resists mat movement to make XL Matting exceptionally stable in use.
XL Matting is ideal for use in production areas, on assembly lines, at work stations, checkouts in retail stores, bank tellers, in fact, in any dry area where long periods of standing can cause foot and leg fatigue. 
It is available in rolls  .9m wide x 18m long or made to any length to suit.
Mat World
Ph: 1300 676 807