X.AI SCHEDULES YOUR MEETINGS FOR YOU
10-04-2016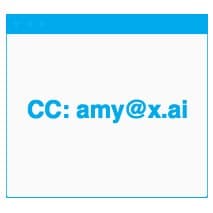 X.ai is an artificial intelligence that is aiming to take the hassle out of scheduling meetings and managing a slew of different back-and-forth conversations.
All you need to do is set up a schedule with time preferences, and email it on through to x.ai.
From there, every time you receive a meeting request, you can cc x.ai with a potential guest and meeting length.
From there, x.ai will email your guest or client, negotiate dates, timing and location, and send a meeting invite to all parties.
Automating such a small part of your workday might seem trivial, but businesses lose quite a few man-hours every year to back-and-forth organization.
Initially skeptical adopters have been won over by x.ai, many now unwilling to go back to the surprisingly massive drain on stress and time that 'ping-pong' scheduling takes from your day.
X.ai is entirely email-based, with no app to download or program to run.
x.ai
w.eb: https://x.ai/