WRIGHTWAY BIN-TIPPER: THREE FUNCTIONS IN ONE
21-10-2014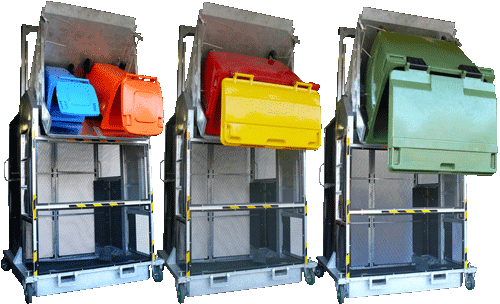 The Wrightway2MT Industrial bin-tipper needs no manual handling and can improve efficiency and minimise risk of injury.
The machine can lift and empty either:
·       1 or 2 standard wheelie bins, 80 litre – 240 litre, or
·       1 x 660 litre 4-wheeled bin, or
·       1 x 1100 litre 4-wheeled bin
The Industrial bin tipper can lift weights up to 450kg. There is also a heavy duty version, which can lift up to 1000kg.
Industrial lift heights are1500mm or 1800mm, but custom heights, weights and/or cradles are available on request.
Standard Wrightway2MT bin-tippers lift and empty 1 x 80-240 litre wheelie bin up to 250kg to standard heights of either 900mm, 1200mm, 1500mm, or 1800mm.
These independently certified bin-tippers are designed and manufactured in Australia by Wrightway Products, suppliers of bin-tippers and Lid Lifta bins to Australian industry since 1996.
Wrightway offers exceptional after-sales service on all products sold.
Wrightway Products
Ph: 0266 227 111
www.wrightway.com.au