WORLD'S LARGEST METAL PRINTER SHAKES UP PRODUCTION
17-05-2018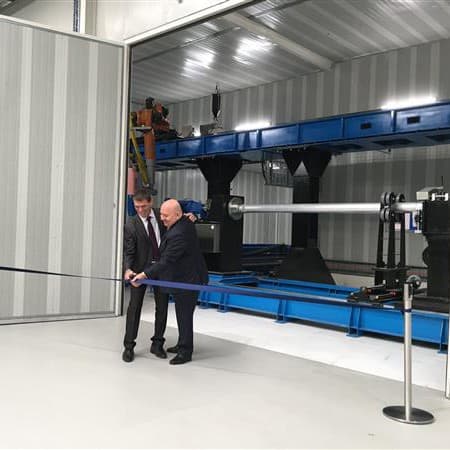 An Australian-built metal 3D printer with the potential to manufacturer aircraft wings, ship hulls, submarines and rocket fuselage with cold spray technology has launched in Melbourne. 
Jointly developed by CSIRO, Australia's national science agency, and Force Industries, the new Titomic Kinetic Fusion process takes cold spray technology, but uses it to 3D print parts from titanium alloys.
Unlike other metal and plastic 3D printers, the CSIRO-patented cold-spray process accelerates titanium and other particles within a gas-powered jet stream, rather than heating powder or filament. 
Pre-programmed robots then shoot out the metallic mixture at a speed that fuses it onto scaffold material.
According to Titomic's CEO and CTO, Jeff Lang, Titomic's 3D printers can deposit around 45 kilograms of material per hour, making them 10-100 times faster than the fastest 3D printers on the market today. Furthermore, these quickly printed objects are said to be approximately 34 per cent stronger than stock titanium.
"It's what we believe is the first in the world at this scale and this capability," Lang said.
"We know the build-speed of the part is 45kg per hour. Generally, the normal metal 3D printer is about 1kg in 24 hours."
Titomic's process aims for zero waste, using only the required amount of metal powder needed to minimise environment impact and costs.
The cost reduction, material strength, and high build size all mean that the TKF process has the potential to produce entire vehicle components (such as aircraft wings) to order. 
"We can make parts cheaper," Lang said. "That opens up an opportunity for the auto industry to use ­titanium more cheaply, and it also opens up the opportunity for us to export high-quality components globally."