WORLD'S FIRST REUSABLE ROCKET MAKES A SAFE LANDING
27-11-2015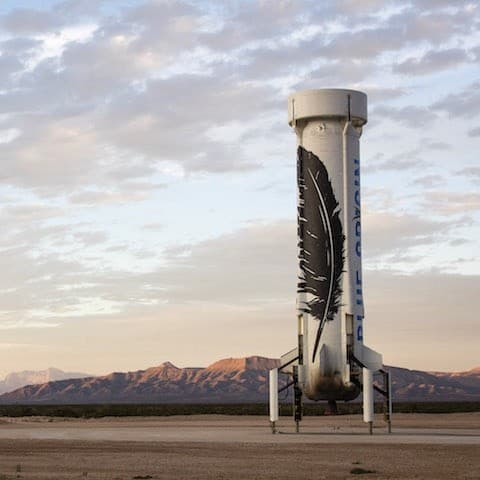 Private space company, Blue Origin, just released incredible footage of its reusable rocket landing
The problem with rockets is that once they go up and out, they usually don't come back in one piece, and if any pieces arrive, none of them are even remotely salvable, ramping up the cost of spaceships and their parts.
This has inevitably led to a race to create the first reusable rocket, with the winner being Blue Origin.
The private space company, Blue Origin, owned by Jeff Bezos has announced that it had successfully flown its first-stage rocket, New Shepard, to an altitude of 100 km and brought it back intact.
The rocket contained a spacecraft that will eventually shuttle six customers into suborbital space, which is the boundary where the gravitational pull of the Earth stops, which is 100km above the Earth's surface.
Passengers will not be able to orbit the Earth but they will be able to experience weightlessness for a brief period.
The team designed the rockets to fire the engines during landings to ensure that the craft did not crash upon impact.
The test flight ended with the craft parachuting down to the test site in Texas.
"Now safely tucked away at our launch site in West Texas is the rarest of beasts - a used rocket," Bezos said in a statement.
"Blue Origin's reusable New Shepard space vehicle flew a flawless mission - soaring to 329,839 feet [100 km] and then returning through 119-mph [191-km/h] high-altitude crosswinds to make a gentle, controlled landing just four and a half feet from the centre of the pad. Full reuse is a game changer, and we can't wait to fuel up and fly again." He continued.