WORLD SOLAR CHALLENGE TO TEST UNIVERSITY'S NEW ENERGY SYSTEM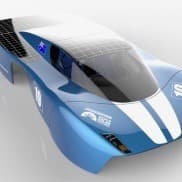 A new energy management system developed by the University of South Australia will be road tested during the 2019 Bridgestone World Solar Challenge through central Australia in October.
UniSA PhD student Erika Belchamber has developed a technique that maximises efficiency in balancing solar input, battery storage potential and energy output, which has massive potential beyond October's event.
"In the race, the system ensures we travel the maximum distance each day with the available amount of light, getting the greatest efficiency from the solar energy," she says. "But equally, you can think of a house with solar panels and a battery as a solar car without wheels, so everything we explore through the race will be applicable for renewable energy use in the wider world."
The system has already attracted interest from the energy industry, offering the potential to maximise the value of variable renewable inputs, such as wind and solar, as part of a mixed-source electrical feed.
"The system uses rapid input predictions based on the best and worst possible scenarios for generation, and then decides the best balance between storage and output," Belchamber says. "In commercial applications, by combining this with energy tariff information and availability from different sources, you could tailor the efficiency of the system in different ways, such as to be the most cost-effective for the end user, or to use the most renewables possible."
The system will feature a cruiser class solar car (as close to a conventional sedan as possible) developed by a team from a collective including UniSA, Queensland University of Technology, University of Technology Sydney, RMIT University (Melbourne) and Curtin University (Perth).
In addition to developing the solar technology and energy management system, UniSA has been project manager on the development of the vehicle. Team leader Professor Peter Majewski says there is a real sense of excitement and anticipation about the event, which has been boosted by the collaborative nature of the project.
"It has been fantastic to see how all these different ideas have come together in creating this vehicle," he says. "It has been a real collaboration, with each university adding its own expertise, and the result is, I believe, more than the sum of its parts, with the sharing of ideas driving innovation in the design."
With all the elements of the design now finalised, the car is currently in the final phases of production at RMIT, with road testing due to begin in June.
"We are all very excited to get it on the road," Prof Majewski says. "I think the end result is something we can all be proud of."
The 2019 Bridgestone World Solar Challenge starts in Darwin on 13th October and finishes in Adelaide a week later.