WORLD-FIRST DRIVERLESS TECHNOLOGY TRAIL IN ADELAIDE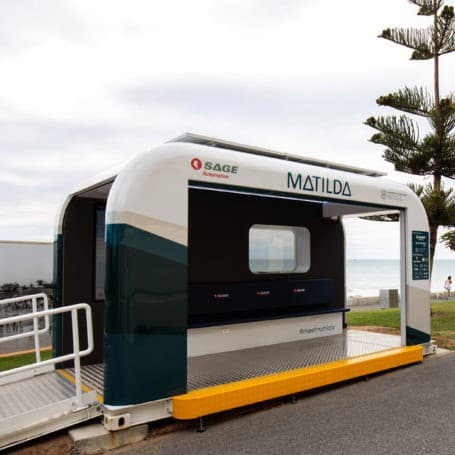 SAGE Automation has launched a smart, mobile transit hub nicknamed Matilda in South Australia to test the integration of autonomous vehicles into daily life. It is designed for use with any driverless vehicles and to provide users with an interactive experience to aid their commute.
SAGE CEO Adrian Fahey said the hub was designed for "first mile, last mile" transport or special events and would open up transport options for people with disabilities.
"Matilda provides a seamless, tailored transit service by autonomously communicating with any driverless vehicle and the people who want to commute," he said.
"This type of integrated technology trial has never been done anywhere in the world before, and we look forward to giving people an interactive, personalised experience, including real-time travel updates and route assistance through Matilda, and testing how this exciting technology interacts with the Local Motors driverless shuttle."
The six-month trial couples the Matilda hub with an Olli shuttle designed by US-based autonomous vehicle company Local Motors and will demonstrate how driverless technologies can share public space with pedestrians, cyclists and recreational activities.
The shuttle runs 900m between a hotel and a popular kiosk on a busy foreshore walkway in Glenelg, a seaside suburb of Adelaide. A hub at each end allows users to book the free ride, track where the shuttle is and ask about the local area, or even for a joke.
"Passengers can 'talk' to our Matilda transit hub, receive directions, book a ride using touchscreen technology, receive congestion alerts and even ask questions about local tourist attractions or where to get a cold drink," Fahey said.
Raphael Toda, Local Motors' project manager, said trials like this represented the first step in encouraging people to think differently about how they move around.
"We recognise the South Australian government for its leadership and commitment to support this trial through the Future Mobility Lab," he said. The government provided $700,000 towards the $1.6 million project.
"It's South Australia's preparedness to invest in testing, research and development of connected and automated vehicle technologies that provides a significant advantage in this emerging global industry. It is sure to create new, specialised high-technical jobs and export market opportunities."
The easily transportable Matilda hub was developed and manufactured in South Australia by SAGE Automation and Sonnex, a company SAGE worked with as contractors at the now defunct Holden car factory.
The technology has been in development for almost a year, with a major component being the incorporation of services to help people with limited mobility use the hub.
Henry Clayden-Rose, who joined the project on a work placement from the University of Adelaide, worked to ensure people with different abilities could use the hub and transport system.
"I have a vision impairment so I have an understanding of what the user groups are struggling through," he said. "When it comes to mobility the communities are very timid and I think they need people to actually reach out, which is what we are trying to do with this project."
The Matilda stop uses IBM Watson technology for voice activation, allowing passengers to ask questions and receive answers, as well as KinTrans software for interactive sign language. The hub also has audio and visual cues to assist anyone with visual and hearing impairments, as well as elderly commuters.
SAGE Automation will monitor the system from its national operations centre at the nearby Tonsley innovation precinct and will use the data to enhance future deployments.
Clayden-Rose said SAGE wanted as many people as possible to use the hub, ride the route and give their feedback so they could improve the technology to help more people.
The trial will further position Adelaide and South Australia at the forefront of autonomous vehicle technology and innovation. In 2016 South Australia became the first state in Australia to introduce laws allowing for trials of driverless cars on public roads and in November 2018 Adelaide hosted the 3rd International Driverless Vehicle Summit.