Materials Handling & Equipment
WORLD-FIRST 'SKY DEPOT' BOOSTS EFFICIENCY WITH SMART CRANES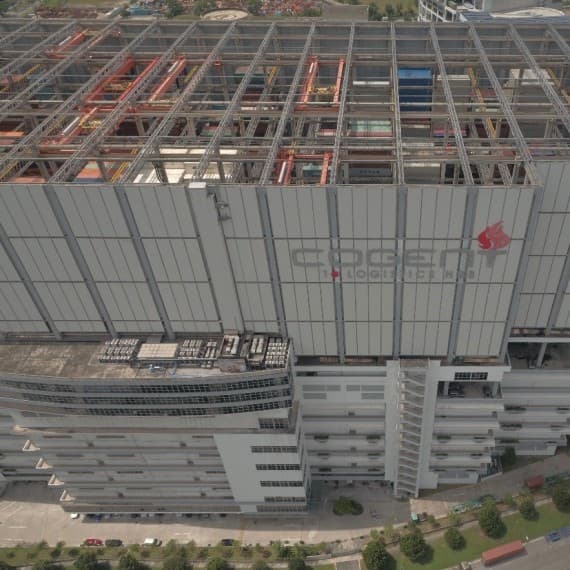 In major trans-shipment hubs like Singapore, there is a great need for facilities for storing empty containers, so Cogent Logistics opened a pioneering 'sky depot' as a direct response to this need. Cogent One-Stop Logistics Hub, one of the largest integrated logistics hubs in Singapore, houses the world's first rooftop container depot.
Cogent is the first logistics provider to successfully implement 15-high container stacking using Konecranes electric overhead traveling cranes. Now in active use, the heavy-duty cranes have a lifting capacity of 12 tonnes, suitable for handling empty containers. Features such as target positioning, hoist synchronisation, hook levelling and energy-saving regenerative drives help the crane operator handle the containers safely and efficiently.
The hub confronts the challenges of land scarcity and high operating costs in Singapore. The rooftop depot is perched at the top, 110 meters above the Jurong and Tuas industrial areas. Opened in 2016, it enables Cogent to support customers with a full range of services including transportation, warehousing management and container depot management.
But as warehouses and container depots are usually situated at or near transport hubs, whether sea, rail or road, it was an especially complex and demanding process to find an effective concept for a rooftop depot, and sourcing the right lifting technology was no exception.
The facility needed to apply a particularly innovative lifting solution in order for an overhead crane to operate seamlessly and efficiently from a rooftop, explains Jian Yong Lee, a spokesperson for Cogent Logistics.
"Although many of the existing features of our cranes mirror those of cranes used in ports and terminals, our container depot has lower-tonnage empty containers, tight space limitations and a significantly higher handling height," he says. "Customisations to the taxi speed, anti-sway and target positioning systems also had to be made to suit our requirements."
To source the cranes that would fulfil such unique specifications, Cogent needed a technology partner, not just an equipment supplier. Taking on this special project required a thorough risk assessment, according to Ryan Wang, Regional Sales Manager, Industrial Cranes SEAP at Konecranes.
"We had to apply our technology from a different perspective and know our own limitations well enough to take up this project," he says.
Lee says that Konecranes worked collaboratively with Cogent to understand the requirements for its unique container depot.
"They provided recommendations throughout the project that helped us to develop a suitable solution," he says. "Konecranes is one of the few vendors that is open, innovative and flexible enough to challenge norms and address new industry problems and requirements."
By incorporating a warehouse and container depot in one hub, Cogent Logistics has effectively sped up the transport cycle by doing away with one trip per cycle. Shipping containers collected from the depot can be delivered to the warehouse within minutes, significantly cutting waiting times.
This in turn means that the hub can manage higher volumes within the same amount of time, translating to savings for the shipping lines Cogent serves.
"Our initial challenge was adapting to this new form of operation flow," Lee says. "Therefore, it helps to work with vendors who are able to bring solutions to us that are safe, reliable and innovative."
The hub's operations also benefit from Konecranes Truconnect remote monitoring, which makes use of sensors on the cranes to gather data on their operation, including operating statistics such as running time, motor starts and work cycles as well as safety-related issues like emergency stops.
"Truconnect has given us a platform to keep track of our equipment utilisation frequency and running hours. This is useful for monitoring and planning operational work, to monitor run times of the equipment and keep logs for better detection of any abnormalities on the cranes," Lee says.
"Expected downtime to perform crane servicing or maintenance can always be arranged at reasonable notice to minimise operational disruptions. Good communication with the Konecranes team is always appreciated."
Konecranes Australia
1300 937 637
www.konecranes.com.au