World business leaders to address Australian congress
31-08-2010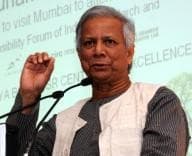 Dr Muhammad Yunus
Nobel Peace Prize winner Dr Muhammad Yunus, Harvard University professor Rosabeth Moss Kantor and former Facebook marketing chief Randi Zuckerberg are among an impressive list of speakers at this year's Australian Chambers Business Congress. 
Building on the success of the inaugural event in Queensland in 2011, Australia's foremost business event will be held at the Melbourne Convention and Exhibition Centre from August 15-17.
More than 1500 business owners, senior executives and entrepreneurs will converge to debate, network, and discover new ways to energise and invigorate their businesses.
Victorian Employer's Chamber of Commerce and Industry (VECCI) Chief Executive, Mark Stone, says: "This is a truly premier event which draws from a combined membership exceeding 100,000, to bring together business leaders at a world-class venue with major keynote speakers – blending business savvy, thought leadership and industry experience into one event.
"We're very excited to host this event in Melbourne and once again are very proud that Chambers from around the country are uniting to produce this event for the second time in the 150 year existence of the Chamber movement."
Themed Today, Tomorrow & Beyond, the Congress provides a space for business leaders to be inspired and find innovative solutions, discover best practice and learn strategies for greater performance and sustainable success.
"With more than 40 world class Australian and international guest speakers, leaders and thinkers, Australian business owners and managers will be able to hear the first-hand experiences of visionary business leaders that have created some of the most successful companies in the world, with experts such as Dr Muhammad Yunus, Rosabeth Moss Kantor and Randi Zuckerberg providing insights into their success," says Mr Stone.
Dr Yunus, the founder of Grameen Bank, is one of the world's most visionary business leaders, a pioneer of micro finance and initiator of social business. 
Rosabeth Moss Kanter, Professor at the Harvard Business School, inspires cutting-edge innovation, strategy, leadership and culture, and was named among the 50 most influential business thinkers in the world.
Randi Zuckerberg, former Head of Marketing at Facebook and CEO of R to Z Media, was nominated for an Emmy Award in 2011 for her innovative TV/online coverage of the 2010 mid-term elections in the US. She was recently appointed to the United Nations Global Entrepreneurs Council and the World Economic Forum's Global Council on Social Media.
Other speakers include corporate philosopher, futurist and author of The Hames Report, Richard Hames, innovation expert Jeremy Gutsche, and hosting the event will be leading comedian and media personality, James O'Loghlin.