WORLD'S LEADING STAINLESS STEEL PRODUCER ON SHOW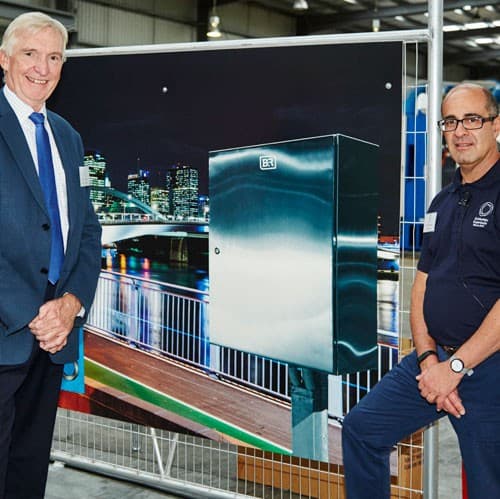 With a reported $10 billion in sales last year, Outokumpu, the Finnish conglomerate that is the world's leading stainless steel producer, recently opened the doors of its Melbourne plant for a major customer and industry event.
Attendees included representatives from the building and construction, mining, manufacturing, architectural, hospitality and chemical industries.
Outokumpu's local operation is Australia's only dedicated cold rolled stainless steel coil service centre, and one of three service centres in Asia Pacific, the company's fastest growing region in the world.
Outokumpu dominates the global market for one of most ubiquitous materials found throughout the world's built and manufactured environment. 
Its stainless steel is used to build cities and urban infrastructure, water and energy plants, factories, consumer goods, medical supplies and transportation machinery and systems.
With its properties of corrosion resistance, durability, strength, hygiene, recyclability and aesthetics, stainless steel is heralded as the material that lasts forever. 
According to Australian Managing Director, Peter George, Australian industries are among the smartest when it comes to applications of stainless steel.
"The Marina Bay Pedestrian Bridge in Singapore is a stunning work of architectural and engineering design with Outokumpu Australia supplying the steel," he says. 
"It features high strength and corrosion-resistant duplex to ensure low maintenance and continuing beauty in hot and humid maritime conditions.
Outokumpu also supplies stainless steel to Australia's top enclosure manufacturer B& R Enclosures whose customers include BHP Billiton, Rio Tinto and Telstra who choose Outokumpu steel for confidence in quality and in the supply chain.
"B& R customers put what's important to them inside their enclosures," says Mr George. "If external conditions are aggressive – in mining, marine conditions, or even the food business where you have constant wash down – then stainless steel is critical."
B&R buys coils from Outokumpu's plant in Finland, which are polished in Outokumpu's service centre in Melbourne. 
Local control at this stage is of paramount importance and B& R says that the finish is critical to getting the performance for their customers.
In the APAC region, Outokumpu focuses on special grades and has won significant deals recently, including deliveries to Ping An Finance Centre, China's highest skyscraper.
The long-term prospects for stainless steel consumption remain robust.
Key global megatrends in urbanization, modernization and increased mobility, combined with growing global demand for energy, food and water, will ensure the continuing growth of stainless steel consumption in the future.
For Outokumpu's Open Day it displayed its broad range of surface finishes, many of which adorn some of the world's most famous buildings, including the Chrysler building and One World Trade Centre in New York.
"These landmark buildings are more than just beautiful architectural masterpieces. They also tell about the advantages of high-quality stainless steel and underscore Outokumpu's position as one of the world's leading innovators in advanced materials," Mr George says.
The Chrysler building is a great example of low maintenance.
It is more than 80 years old and was one of the first skyscrapers to use stainless steel. 
Except for a few panels, which have been replaced, the stainless steel roof is original and has been manually cleaned only twice.
In addition to the low lifetime cost of stainless, Mr George stresses the importance of technical expertise and support for customers.
"The requirements for cost-efficient, high-performing, sustainable buildings are growing and those stainless steel suppliers that can offer technical expertise, innovation and end-to-end project support will lead the pack. Outokumpu is one of the suppliers, one which takes building and infrastructure to new heights."