WORLD'S FIRST OCEAN CLEANING SYSTEM TO BE LAUNCHED NEXT YEAR
09-06-2015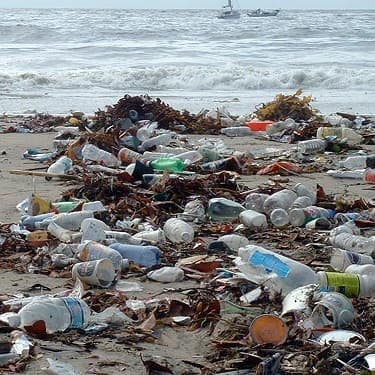 An estimated 300 million tonnes of plastic are produced and thrown away every year.
The bad news is this plastic waste takes years to break down, causing havoc for the environment.
An estimated five trillion pieces of plastic are estimated to be floating through the oceans right now, threatening marine organisms that can accidentally ingest it or become tangled in it.
To clear that much plastic seems like a gargantuan and costly task, but one 20-year-old believes he has solution. 
Founder and CEO of The Ocean Cleanup Boyan Slat announced recently that his organization will be deploying a world first by next year – the first system to safely remove plastic waste from oceans.
The structure he has designed will float, buffered along by the oceans' currents, and snare plastics and other debris, which will then be picked up via a conveyor belt.
At over 2,000m this debris-trapping system will be the longest floating structure in the ocean. 
The Ocean Cleanup plans to deploy the floating structure off the coast of Japan in early 2016, where it will be in operation for at least two years.
"Taking care of the world's ocean garbage problem is one of the largest environmental challenges mankind faces today. Not only will this first cleanup array contribute to cleaner waters and coasts but it simultaneously is an essential step towards our goal of cleaning up the Great Pacific Garbage Patch," said Slat.
"This deployment will enable us to study the system's efficiency and durability over time."
But this is not Slat's first major enterprise with The Ocean Cleanup.
The Mega Expedition an initiative to create a high-resolution map of plastic in the Pacific Ocean, will launch at the end of August this year.
Departing from a port in Hawaii, 50 vessels will be deployed across a vast area between Hawaii and California, spanning some 3.5 million kilometres of ocean, which will "collect more plastic measurements in three weeks than have been collected in the past 40 years combined."
Source: IFL Science