World's first lithium battery powered MMA welder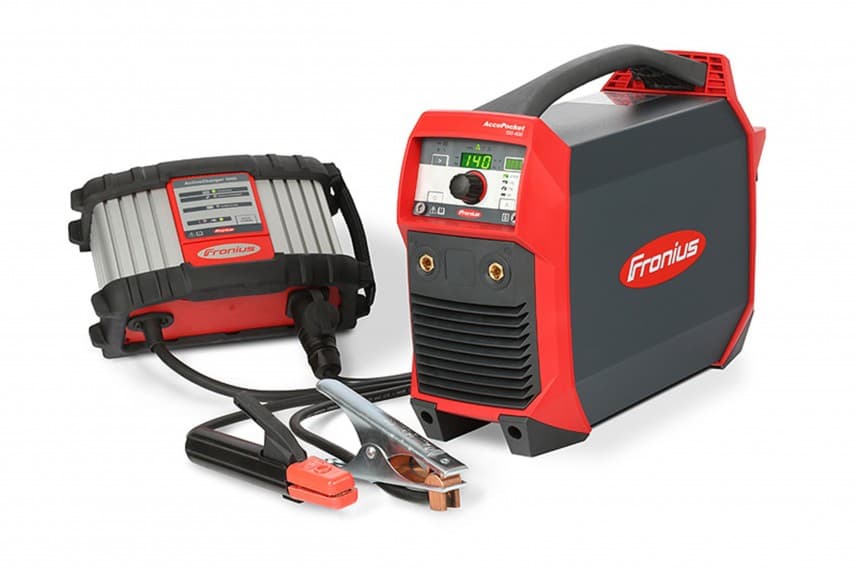 AccuPocket from Fronius is the world's first MMA welding system with a high-performing lithium-ion rechargeable battery and a low overall weight.
Released in Australia by distributors SMENCO, the new technology gives users unprecedented freedom of movement in manual electrode and TIG welding.
AccuPocket is the first welding power-source manufacturer to tap the concentrated power of lithium-ion technology for use in welding equipment.
Until now, remote repair-welding in mountainous regions, field erection jobs in the country or welding work at exposed locations involved costly and time-consuming preparations.
But long mains supply leads or big, heavy 8 kVA generators are now no longer necessary. And mains power is no longer required nearby.
Now jobs needing up to six 3.25 mm electrodes or up to 18 X 2.5 mm electrodes can be welded autonomously.
For more substantial welding applications, a small, compact 2 kVA generator is sufficient to provide unlimited welding power or reduction in arc quality.
Thanks to AccuBoost Technology, AccuPocket welds extremely reliably and utilises its built-in power reserve to achieve perfect ignition and welding properties.
Its advanced functional design – with very small dimensions, low weight and rugged build – makes AccuPocket ideal at any field worksite.
AccuPocket has won two international awards for its new design, the prestigious Red Dot and Plus X Award.
The external shape of the unit has been redesigned to meet the harsh demands of day-to-day welding.
AccuPocket´s new and dynamic lines, and its intelligent combination of metal and plastic, unite the benefits of portability, robustness and technology.
 
SMENCO Pty Ltd
Ph: 1300 731 873