WORKSHOPS TO SHED LIGHT ON CORROSION UNDER INSULATION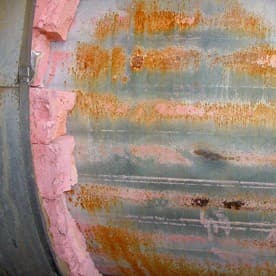 Corrosion under insulation (CUI) is a pervasive but insidious form of metals corrosion. Most industrial and commercial facilities - from the largest refineries and chemical plants to a local hospital or neighbourhood bakery - have insulated equipment. There are many reasons equipment is insulated, including energy conservation, production process stability or personnel protection, whether the product inside is hot, cold, or cycles between temperature extremes.
Wherever insulation is used, there will be some amount of corrosion under it. Unchecked CUI can cause thinning of the metal wall of a pipe or vessel, which may lead to catastrophic perforation or rupture. The consequences of this are increased where the vessel or pipe contains flammable or poisonous product under pressure.
In Australia, the yearly cost of asset maintenance is estimated to be approximately $32 billion. Avoidable corrosion damage, such as CUI, accounts for $8 billion of this and continues to have a major economic impact on industry and the wider community. Each year around the world there are hundreds of failures and incidents - to varying degrees of severity - caused by CUI.
Industrial insulation typically comprises an outer protective jacketing, one or more layers of insulation, and a protective coating applied to the metal substrate. Even after taking every precaution during the design, construction and operation of an asset, every insulation project will sooner or later be affected by CUI. And unlike "normal" corrosion, CUI is hidden under the insulation and jacketing and is not readily visible - out of sight and too often out of mind.
The high cost of replacement insulation, labour, and operational downtime time means that only a small percentage insulated area is ever opened up for visual inspection. The rest of the area may be inspected using various electronic means, which may or may not give accurate indications of CUI. Parts of an insulated area may not be visually inspected at all during the expected 15 to 18 year service life of an asset threatened by CUI.
It is important that owners of high-value assets understand the cost implications of ignoring the effects of corrosion under insulation. Organisations require effectively trained staff that have an understanding of the numerous types of corrosion that affect their industry and of the preventive and remediation technology available.
As part of its charter, the Australasian Corrosion Association (ACA) presents a continuing programme of technical seminars and training courses each year. In June 2018, the ACA is presenting a series of two-day technical workshops dealing with CUI.
The workshops will be presented by international CUI specialist and consultant Peter Bock from Houston, USA. Bock has more than 30 years' experience in elevated temperature coatings and CUI and has published numerous articles as well as spoken at NACE, SSPC, ICC and other national and international conferences regarding CUI problems and solutions.
Workshops will be held in Perth (19th to 20th June), Sydney (25th to 26th June) and New Plymouth (28th to 29th June) dedicated to design, specification and inspection of corrosion control systems to prevent CUI in new or aged equipment and will cover topics such as the causes of CUI, current state-of-the-art CUI coating systems, inspecting and evaluating aged CUI in the field and appropriate CUI repair coating systems.
Places are still available for the workshops and bookings can be made via the events section of the ACA website until 25th May 2018.
Australasian Corrosion Association
www.corrosion.com.au