WORKPLACE TRAFFIC MANAGEMENT - PART 2: PEDESTRIAN BARRIERS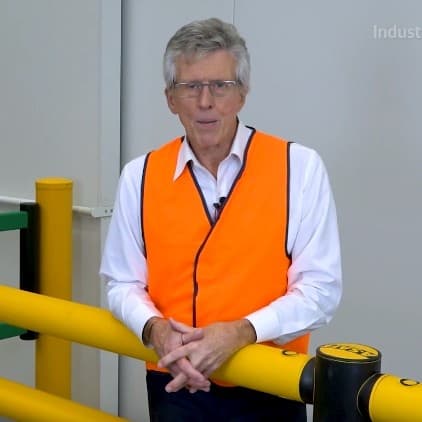 In the concluding instalment of our documentary on workplace traffic management, we look at pedestrian barriers and how they can be used to enforce segregation between pedestrians and vehicles in the workplace. However, not all barriers are created equal.
Workplace traffic management measures such as painted lines and bollards, temporary barriers and permanent low-impact barriers may be sufficient when all drivers and pedestrians are alert to each other.
But a moment's inattention by anyone can cause an accident that may result in injury, incapacity or death, or damage to vehicles, stock, machines or workplace infrastructure.
The fact is that painted lines don't stop vehicles at all, while bollards and temporary barriers might slow them down or deflect them, but ultimately don't stop them.
Painted lines need regular repainting, low-level impacts will destroy temporary barriers and damage permanent ones, and medium-level impacts will destroy permanent low-impact barriers.
A low-level impact might weaken a high-impact barrier in ways not visible to the eye, reducing its safety next time.
And in a high-level accident, a high-impact barrier might prevent an injury or death, but in many cases it may need to be completely replaced. In any case, there will be a requirement for ongoing repair and maintenance.
Metal and concrete barriers are designed to absorb energy by deforming, and may well cause considerable damage to the colliding vehicle in return.
Many barriers like these are bolted into concrete floors, and impacts with the barriers will also damage the concrete.
But there is an alternative.
Polymer barriers, like those produced by A-Safe, are designed to flex, absorb and recover.
The three-layer composite design is UV-protected and corrosion and chemical resistant, and the coupling technology linking the rails the post and the post to the ground actually improves the products' strength.
Alongside products to segregate pedestrians from traffic, there are products to protect machines, walls, doors, columns, posts and pallet racks.
The zinc and electrophoretically coated base plates protect from chips and corrosion, and the flexible, modular system allows barriers to be moved and adapted as needs change and facilities are reconfigured or expanded.
All A-Safe products are tested to the extreme using weighted pendulums and vehicles rolling down ramps, ensuring repeatable, accurate and consistent results.
Most importantly, A-Safe has led a steering group of industry organisations in the production of a code of practice published in 2017 by the British Standards Institute as PAS13 – the Code of practice for safety barriers used in traffic management within workplace environments with test methods for safety barrier impact resilience.
In the absence of an equivalent standard or code of practice in Australia, PAS-13 is the best way of knowing that a product is designed to do what it says it does.
Director Mark Collins and NSW state manager Robert Soban lead the team at A-Safe Australasia.
Collins is enthusiastic about his company's products, saying: "Our traffic barriers almost sell themselves. When people see them in use at other sites and understand the benefits of the polymer design complying with PAS13, it's easy to start a dialogue with a new customer".
Brian Hughes is a Principal Inspector with SafeWork NSW. We asked him for the official line on barriers for workplace traffic management.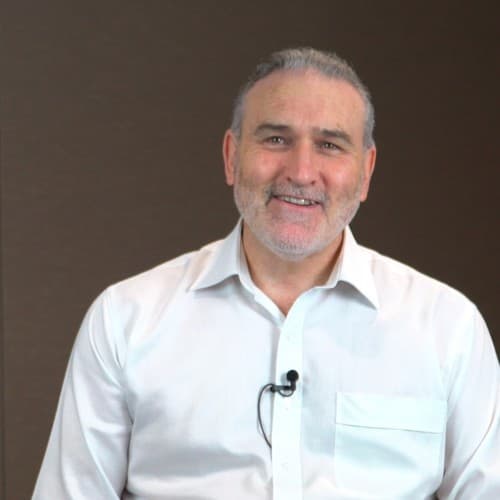 IU: Do pedestrian barriers protect pedestrians?
BH: From a traffic management perspective, pedestrian barriers can take many forms including concrete traffic islands, installed metal fencing, temporary fencing, and even temporary structures such as plastic barriers and bollards.
The control chosen should be the most reasonably practicable, that is, the highest level possible given all the factors that affect the decision. Ideally it may be best to exclude pedestrians from some areas all together, which would eliminate the need for a physical barrier.
For a barrier to provide an effective level of protection it would need to be designed to take into account the risks present at a workplace such as site layout, type and frequency of traffic, proximity of pedestrians and availability of any alternative measures.
It's important not to focus just on barriers though, as barriers can only provide protection in some areas. There are likely to be crossings and shared zones where barriers are impractical and other means of separation need to be employed. Barriers should be considered as a part of the overall set of controls for traffic management for a workplace.
Where physical separation is used, it may still not protect a pedestrian in the event of an impact by a large or heavy vehicle and like all plant must be inspected and maintained to ensure it continues to provide the level of protection it was designed for.
IU: Are there relevant standards for pedestrian barriers in Australia or globally?
BH: RMS have standards and specifications for pedestrian fencing, this is more related to barriers as means to prevent pedestrian incursion onto roadways and how barriers perform to provide visibility to road users and protection of pedestrians and others in a collision roadways and road related areas and preventing pedestrian incursion into unsafe areas.
There are standards for crash protection barriers that relate to vehicle impact which is used by organisations that manufacture and test barriers for their suitability for roadways.
The Australian Standard AS1742 set, "Manual of uniform traffic control devices" contains parts that refer to controls for pedestrian safety in relation to traffic but do not appear to address any standards for barriers specifically.