WORKPLACE TRAFFIC MANAGEMENT BREEDS NEW SAFETY CULTURE FOR PET FOOD MAKER
02-10-2019
A whole new safety culture is growing among the workforce at the Real Pet Food Company's factory at Ingleburn in Sydney's southwest, and it all began with a workplace traffic management plan.
The Ingleburn site occupies 5 hectares, producing high-quality all-natural canned dog and cat food for domestic and export markets, with China as a significant and growing export destination.
However, having evolved and expanded through several changes of ownership over the course of 30 years, the site had no clearly defined traffic routes for either pedestrians or the growing fleet of forklifts travelling between the factory, the canning and packaging plant and the warehouse. There were also potential areas of conflict in the yard between the incoming raw materials and the outgoing pallets of pet food.
When Sue Wood became Site Manager at Ingleburn she quickly identified the need to formalise traffic management at the site, a task made all the more urgent by the increasing throughput from the factory and the growth of the workforce, which includes a significant proportion of non-English-speaking staff.
Says Wood: "When we set out to determine what to do to make the team safer throughout the site, the first priority was to create clearly defined routes for vehicles and pedestrians. And it was crucial that everyone could easily recognise where they should be and where the hazards were."
So the plant safety team mapped out all the high traffic areas of the site and created designated routes for pedestrians and forklifts through the factory, the canning plant and the warehouse.
These routes have been clearly marked with liberal quantities of floor paint and ample additional signage at eye height – all successfully designed to be visually impactful without relying on language.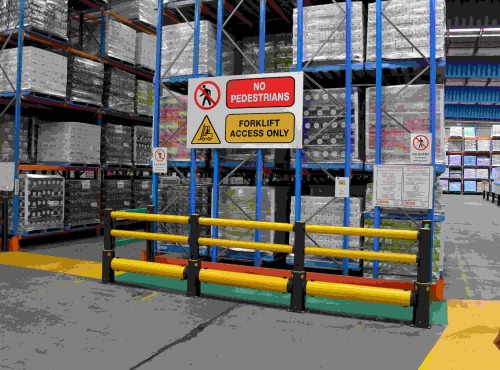 Attention then turned to safety barriers to physically separate the pedestrian and vehicular traffic.
There were already a number of steel barriers in place, but these were showing considerable signs of wear, with dents, flaking paint and damage to the concrete floor where mounting bolts had been put under stress due to impacts on the barriers.
Sue Wood had in mind a more technologically advanced alternative, and so she drew up a shortlist of suppliers of polymer safety barriers, before inviting one supplier to set up a test installation on the site.
That supplier was A-Safe, and its test installation ticked all the boxes for Sue Wood, who says: "The team liked it immediately, and it had the look of something that would last."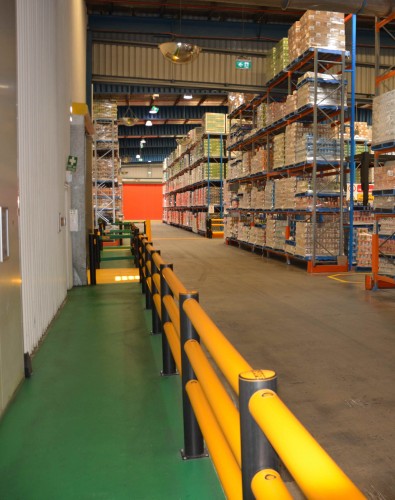 And that durability was an important criterion for Real Pet Food: while its products are destined for canine and feline stomachs, its manufacturing operations need to meet stringent hygiene regulations just like any food and beverage manufacturer. Therefore the manufacturing operation at Ingleburn is HACCP certified and SQF audited.
A-Safe polymer barriers are self-coloured (with the safety yellow pigment as part of the polymer). So there is no paint to flake off and potentially contaminate foodstuffs, and the barriers can be subjected to full washdown procedures.
More to the point, they are tested to the PAS 13 code of practice, proving that they will absorb even heavy impacts from vehicles such as forklifts and return to shape, rather than splintering or being ripped from their floor mountings.
Having successfully completed the trial, Wood commissioned A-Safe Australasia Director Mark Collins and his team to install pedestrian barriers throughout the warehouse and canning plant – complementing the floor markings and signage, and creating clear and obvious protected pedestrian walkways.
But the installation did not end there.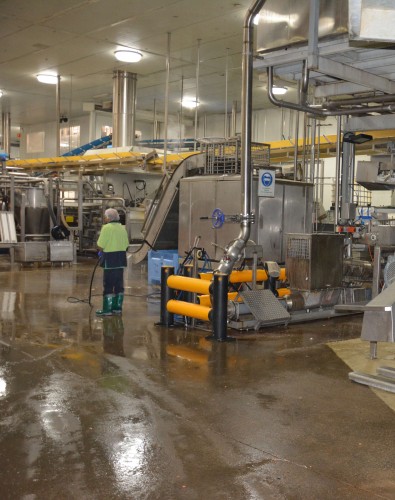 Just as A-Safe's barriers are designed to protect pedestrians from impacts from forklifts, they are also used to protect valuable infrastructure. So Collins and his team also installed forklift protection around a number of critical process assets within the factory itself.
This is an important consideration in an area where forklifts might lose traction on a floor still wet from washdown.
Simultaneous with the safety barrier installation, Real Pet Food also upgraded its forklift fleet, beginning a switch from petrol power to electric traction. And A-Safe barriers had a role to play in this as well, with each of the charging stations constructed using the polymer barriers. In this application, the barriers not only separate pedestrians from the charging areas, they protect the chargers themselves from an over-running forklift.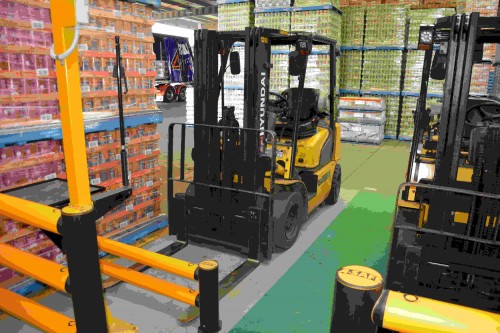 The A-Safe team were also able to make a number of additional suggestions to improve safety, such as the construction in the yard of two further "safe areas": one for truck drivers awaiting loading and unloading, and a second one as a dedicated forklift maintenance area.
As chance would have it, inspectors from Safe Work NSW visited the site during the installation, and were impressed with the progress made over the preceding 12 months.
Of course, any safety programme will always be on-going. But, thanks to the traffic management scheme, with its clearly defined walkways and forklift areas backed up by protection using A-Safe barriers, Real Pet Food has made major strides using best practice in workplace safety.
As Sue Wood puts it: "It's starting to look and feel safer, and the team have taken it onboard. There really wasn't any history of a strong safety culture, but that's been uplifted with the changes. Now we're seeing everyone taking responsibility for their own safety and for the safety of the rest of the team."
And as to the performance of the A-Safe barriers? Sue Wood admits there have been a small number of "soft contacts" with forklifts, but the barriers have coped with them each time with no lasting damage to either the forklift or the barrier.
The Real Pet Food Company has clearly been impressed with A-Safe's pedestrian barriers and their contribution to workplace traffic management and safety in general. So much so that the company has gone one to order similar installations at its facilities in Dubbo and Somersby (NSW) and at its original home in Yatala in Queensland.
A-Safe Australasia
02 9625 8927
www.asafe.com