WORKPLACE HYGIENE: HAND WASHING IS THE FIRST LINE OF DEFENCE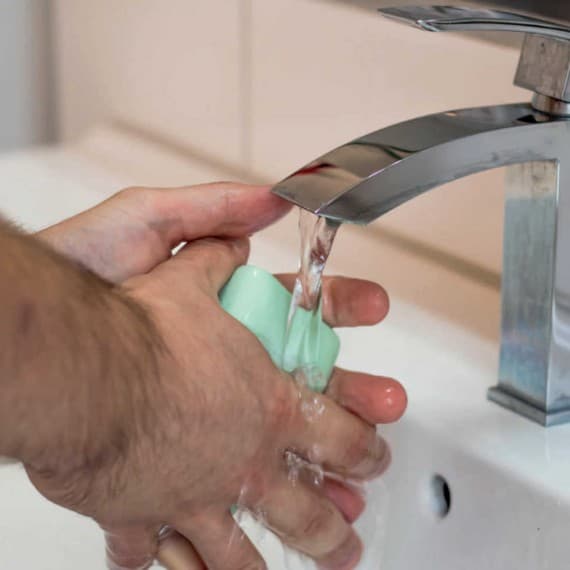 It may sound obvious, but workplace hygiene starts with hygienic employees. And that begins with the appropriate routine of hand washing.
However, who can honestly say that they know the best way to wash their hands? Check out these recommendations from the Mayo Clinic and see whether you've got it right.
When to do it
Always wash your hands before: preparing food or eating, treating wounds or caring for a sick person, and inserting or removing contact lenses.
Always wash your hands after preparing food, using the toilet, touching an animal, blowing your nose, coughing or sneezing, treating wounds or caring for a sick person, and handling garbage.
How to do it
First up, skip the antibacterial soap – apparently it's no more effective at killing germs than is regular soap. Using antibacterial soap might even lead to the development of bacteria that are resistant to the product's antimicrobial agents.
Wet your hands with running water – and this can be warm or cold. Then apply soap to a cupped hand, lather well and rub your hands, palm to palm, vigorously for at least 20 seconds. Remember to scrub all surfaces, including the backs of your hands, wrists, between your fingers and under your fingernails.
Rinse well and dry your hands with a clean towel.
The Mayo even recommends that you use the towel to turn off the tap once you have finished.
Using alcohol-based hand sanitiser
Alcohol-based hand sanitisers are an acceptable alternative when soap and water aren't available. However, the hand sanitiser should contain at least 60 per cent alcohol.
Apply enough of the product to the palm of your hand to wet your hands completely. Then rub your hands together, covering all surfaces, until your hands are dry.
In the words of the Mayo Clinic, hand-washing offers great rewards in terms of preventing illness. Adopting this habit can play a major role in protecting your health.