Published 01-07-2021
| Article appears in August 2021 Issue
Workplace Health & Safety Show topics announced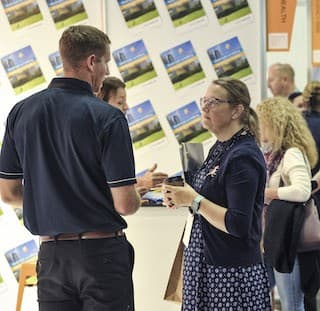 The organisers of the 2021 Workplace Health & Safety Show, which will take place in Sydney on September 7 and 8, have announced the topics for the free seminar and forum.
Topics include innovation, technology, major hazards, wellbeing, mental health, and injury prevention, among others.
Taking place at the Sydney Showground, Sydney Olympic Park, Homebush, Australia's leading workplace health and safety event promises thought-provoking discussions and interactive forums
"We are excited to create a personalised and interactive space for professionals to hear from industry leaders on how best to foster healthy and safe work environments," said Marie Kinsella, CEO, IEC Group Australia.
PROGRAM
Day 1:
Practical approaches to managing psychosocial hazards in the workplace – a regulator's perspective
Speaker: Ian Firth – State Inspector, SafeWork NSW
Through a People at Work case study, this session will cover what the psychological hazards and challenges are in the workplace and what the practical approaches are to manage these risks.
Virtual Reality is making workplaces safer
Speaker: Michael O'Reilly – Founder & CEO, Next World
Explore examples of cases where VR for learning is improving safety performance and helping to make workplaces safer.
Mitigating Risks of the Mobile Office
Speaker: David Schieders – Senior Executive, Pedders Suspension + Brakes
This session will walk you through some of the often forgotten considerations that apply to all vehicles that form the modern day mobile office fleet.
WHS Prosecutions – What's your exposure?
Speaker: Alan Girle – Director, Australian Business Lawyers and Advisors
An analysis of businesses' and directors' exposure and guidance on what might occur if your business was in trouble, including strategies for minimising the risk and better managing the disruption caused.
Creating a culture of safety using better business intelligence
Speaker: Thai Phan – Head of Growth, Clade Solutions
This session will discuss how the leap from spreadsheets to SCRIM has opened up opportunities to progress toward improved workplace health and safety.
Fatigue: Is prevention better than management?
Speaker: John Toomey – Wellness Thought Leader
What are the factors that impact wake time alertness and energy levels? How can workers handle these to limit their impact? Come along and learn what really causes wake time yawning, drowsiness, lethargy and premature sleepiness.
Making Your Business Compliant with Technology
Speaker: Corey Burford – Managing Director, Skytrust
Look at the benefits of transforming into a digital world and provide some tips and tricks to look for when considering any single system for all your compliance needs.
Forklift Safety Week
Speaker: Craig Williams – Clark Equipment; Mike Croxford – Crown; & Craig Williams – Clark Equipment
This forum will include:
An overview of the types of fork trucks.
Australian Standards' safety requirement updates, recent changes and trends
Operational Safety
Q&A session
Make SafeWork NSW Inspector
Panellists: Kevin Murphy, Ian Firth, Genevieve Fleming – SafeWork NSW
A panel Q&A featuring three SafeWork NSW inspectors who are collectively experienced in Building & Construction, Psychological Health, and Manufacturing.
Navigating the Psychological Safety Climate
Speaker: Carolyn Parish – Director of Workplace Wellbeing, OzHelp
This talk will give practical guidance on how to navigate psychological safety, breaking down the approach into four key areas of action to simplify and manage psychological safety in the workplace.
How to ensure your people feel the need to prioritise safety
Speaker: Todd Levi & Susan Fleming – ACT Australia
How do leaders ensure their people are committed to prioritising safety? Join an industrial theatre with professional actors to learn how to engage people to commit to the best practice in safety.
Early intervention: Why it's critical to get this right (before anything else)
Speaker: Dr James Murray – Managing Director, Work Healthy Australia
When talking about workplace injury prevention and treatment, before you start mining data, analysing trends, and predicting injuries, you need to ask yourself: has your workplace got the basics right? In this presentation, James will take visitors through what 'early intervention' really means, what best practice looks like, and how important it is to get it right. Only then, can the rest flow beautifully.
Wellbeing anchors at work: Powerful tools to improve workplace health, safety and productivity
Speaker: Samuel Eddy – Exexcutive Coach
This interactive session will demonstrate how employees can reduce their "stress temperature" and set up simple but powerful wellbeing anchors that will enable workplaces to not only be safe and healthy, but to thrive and boost productivity.
Compliance and safety - are they the same thing?
Speaker: David Davis – Hi-Rise Access
Does compliance with Regulations, the Standards and Codes of Practice mean that the system is automatically safe for use? David explores the issues of safety vs compliance, asking us to consider the core issues when prescribing these systems for access in high-risk areas.
Using lived experience in the codesign of workplace mental health strategies
Speaker: Stephanie Thompson – Workplaces Program Lead, WayAhead
This presentation outlines the importance of including consumers and people with lived experience in the design, implementation and evaluation of workplace mental health strategies. Using a real-life case study, look at the role workplaces and leaders have on mental health prevention and recovery.
HSE in Australia – the journey so far… and what direction next?
Speaker: Anna Rickards – General Manager, Health by Design
An insight into what is and isn't working with HSE in Australia, the role that behavioural science can have in increasing engagement and impact against risk, and the argument for joining the dots between safety, mental health, injury risk, sleep/fatigue, and health and wellness.
Day 2:
Driving action to improve mental health at work in NSW – Towards 2022 and beyond
Speaker: Jim Kelly – Director of Health and Safe Design, SafeWork NSW
An examination, through a regulatory perspective, on workplace mental health, covering the role leaders play in driving a culture of safety, and the proactive and preventative approaches to managing psychological hazards in the workplace.
Wearable Technology: A Benefit or a Distraction?
Speaker: David Bick – Director of Professional Services, Joint Action
Wearable Technology that automates manual task risk assessment for work-related musculoskeletal disorder (WRMSD) hazard management is increasingly available. Does this technology lead to effective task focused risk-control or purely focus on the worker, and does it result in better hazard management or bigger collections of assessments?
The Blueprint for the Workforce post COVID
Speaker: Sue Jauncery – CEO, Appellon
This topic illuminates the evidence-based science in understanding the effects of Covid-19 on organisations, what kind of response they are taking, the importance of preparing the workforce foundation for the 'new normal' and how to do so effectively.
Forklift Safety Week
Speaker: Craig Williams (Truck Types) – Clark Equipment; Craig Williams (Operational Safety) – Clark Equipment; Todd Brennan (Fork Truck Licencing Requirements) – Forkpro Australia; & TBC (Fork Truck Attachments)
This forum will include:
An overview of the types of fork trucks,
Operational Safety,
Fork Truck Licencing Requirements,
Fork Truck Attachments,
Q&A session.
Using data and analytics to predict and prevent injuries to the workforces of the future
Speaker: Rodney Hampel – Head of Business Development, Bodycare Workplace Solutions
Hear how digital technology and advanced analytics are disrupting and transforming how companies work and understand the health status of their workforces.
The care equation in preventing mental health challenges
Speaker: John Toomey – Wellness Thought Leader
What if we could change the way we operate in the world and have great awareness of the people around us and stepping in to help them when they start making bad decisions, or expressing unhelpful ideas and thoughts? John Toomey discusses how we can learn to use care as an effective prevention tool.
Digital Transformation – The Safety Journey
Panellists: Mary Nizamis – Skytrust; Ann Tomlinson – Alium Works; & Dave Cooper-Smith – Schneider Electric
Explore the journey from paper to digital and gain insights into the benefits on making this transition whether in small business or at a corporate level. The panel will discuss the importance of compliance for business and how to achieve this.
Making WHS work in an Enterprise Risk Management framework
Speaker: David Tattam – Director Research and Training, Protecht Group
This session looks at how WHS can be incorporated efficiently and effectively into an Enterprise Risk Management Framework.
Keeping remote and isolated workers safe
Speaker: Peter Bolger – CEO, Pivotel
Understand your legal obligations for a remote workforce and how satellite communications technology allows your organisation to protect a workforce in situations where traditional communication methods may be inconsistent and unreliable.
EMF monitoring in the workplace
Speaker: Cyril Bourke – Director, EMF Safety
A presentation and demonstration of new devices that can monitor the entire range of electromagnetic pollution that workers are exposed to in all types of environments.