WORKPLACE HEALTH & SAFETY SHOW SURPASSES EXPECTATIONS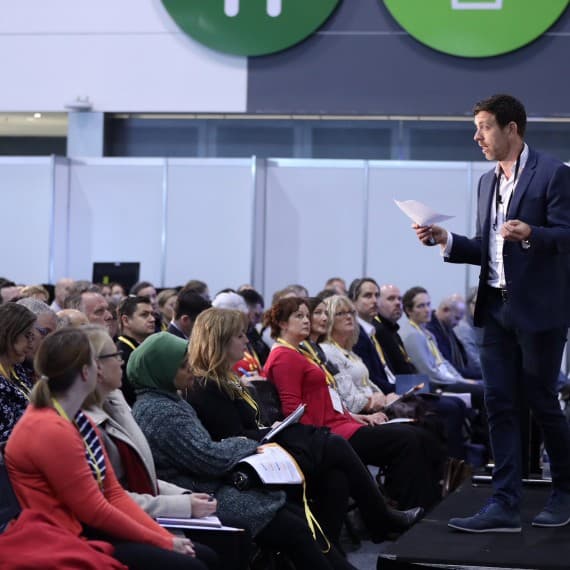 No empty seats at the seminars
The world of workplace health and safety descended on the Melbourne Convention & Exhibition Centre yesterday for the first day of the all-new Workplace Health & Safety Show. And it did so in big numbers, with the opening day attendance estimated in excess of 1200.
It helped that the show is part of #Safetyscape, which includes the Safety Institute of Australia's national health and safety conference. And at each break in the conference, the exhibition floor became increasingly crowded as the delegates took their opportunity to check out the 90+ exhibitors.
But the Workplace Health & Safety Show is not just about the exhibition. The educational seminar programme was standing room only, which is impressive given that the seminar theatre has more than 250 seats, and the live theatre experience had them queueing out the door for the opening session - a panel discussion on the lessons learned from the Robert Doyle sexual harassment case.
SIA Chair Patrick Murphy was impressed with the show, and reiterated his support for having the different events together under the #Safetyscape banner. "It's still important to have trade displays like this," he said, "so that when we come together as a profession we can understand what's out there to facilitate workplace health and safety."
Murphy went on to say that next year's #Safetyscape event in Sydney would be larger, following an American model with multiple conferences alongside the show, making it "the pinnacle convention of the year".
From the perspective of the Workplace Health & Safety Show, Marie Kinsella, CEO of show organiser IEC, was delighted with the turnout on the first day. "We're well on the way to beating our target of 2000 visitors, so it looks like the message has got through," she said.
The Workplace Health & Safety Show continues today at the Melbourne Convention & Exhibition Centre.