WORK/LIFE BALANCE IS KEY FOR AUSTRALIAN PLASTICS PIONEER
22-08-2017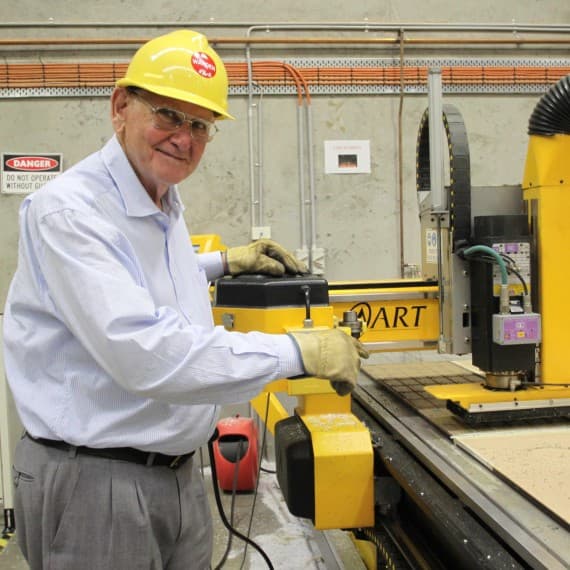 Laurie Green the plastics industry innovator
What keeps a man so interested in his business that at 80 he is looking for ways to innovate in Australian engineering and manufacturing for major industries such as construction, mining and energy, safety and public works?
In the case of Laurie Green – Managing Director of pioneering plastics products manufacturing and wholesaling group Cut To Size Plastics – the answers are many, including a healthy work/life balance, but one constant over more than 60 years has been a passion for innovation.
Welcoming change and treating it as an opportunity, Cut To Size has expanded the scope of its business both nationally and internationally, adding a branch in Brisbane in recent years to complement its headquarters in Sydney.
"I agree with the PM about innovation and planning. His approach is so refreshing after the negativity we have had for years in public life. There is no doubt that if we do not change then we perish – and the challenge always is to develop change without disruption.
"Change is always an opportunity. Without it we would still be living in caves. We must welcome it but we should always be considerate of those who may be left behind when there is sudden disruption," says Green.
The support of a good team – a blend of youth and experience – has also helped maintain the enthusiasm over nearly 60 years in the business. "Having a good group of people doing the day-to-day work enables me to be free to think and have discussions with a wide range of people not necessarily associated with the business."
This free thinking and opportunity to dig into the needs of customers to understand their business and provide solutions to their problems has led to numerous innovative products recently.
Among these are the Cut To Size range of split plummer blocks, which can be particularly valuable in minimisung disruptions to production caused by bearing replacement and traditional bearing failure.
These light, easily handled and self-lubricating spilt blocks can be precision machined from polyurethane and other engineering grade plastics for diverse materials handling applications, often involving machinery with multiple bearings and shafts inline where it would be costly to close down the entire line for removal and installation of heavier and more complex bearings.
The company is also making sliding guided bearings that offer maintenance-free cost-efficiency in high load mining, materials handling, steel and concrete beam structures.
A good work life balance helps maintain energy and motivation. Laurie and his wife Lindsay Green cultivate showplace daffodils at their NSW country property, where away from the nitty gritty of engineering he becomes the aesthete and appreciator of peace and beauty.
But Green insists: "Plastics continue to hold my attention as we see growth and innovation as the industry works on being relevant to the future needs of society.
"When I became interested in the industry in about 1960, it was a very small industry with light industrial areas almost everywhere – Crows Nest for example.
"There were three main engineering plastics that we dealt with – Nylon, Teflon and Delrin. Then innovation and change started.
"A big breakthrough I have lived through was the development of ultra-high-molecular-weight polyethylene, which is now one of our best-selling materials.
"But it didn't stop there as researchers started putting fillers and additives in this group to make them even more specific to different applications And now further along the path to the future we see developments in special food grades, the strong development of plastics from biodegradable materials. One of our suppliers from Germany is devoting an enormous research effort into this area and has already released a product based on renewable raw materials which is biodegradable."
Green reckons that Australia sits in a very interesting place in regard to the use of quieter, lighter, safer and easier to handle plastics substituting for metals.
"Yes – there are those of us in the industry that think change could be faster, however there are many reasons why the use of engineering plastics as a metal substitute is slow. We face a very strong metal industry that has been able to develop a great history of achievement over centuries.
"Think when the first knife or sword blade was recorded in history. Metal has been so successful, and cannot be substituted in a large number of applications by plastics.
"The object is to live with metal and look for areas where metal could be improved on. We look for lightness, for noncorrosive areas, wear situations, low cost (disposable) protection, security windows (can be seen through) and definitely electrical insulation and protection.
"We have to see the situation as the customer sees it and only offer our products as alternatives where they are clearly and demonstrably better, cheaper, safer or more efficient. We respect our customers' intelligence and work with them to arrive at solutions. Innovation is often organic. It grows out of real needs and can't be imposed from the top down. It grows out of the inspiration of the customer and the manufacturer working together to develop sustainable, sensible and clearly better solutions."
Cut To Size Plastics
02 9681 0400
www.cuttosize.com.au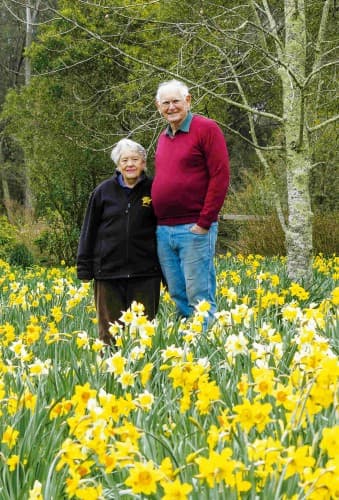 Laurie and Lindsay Green cultivate showplace daffodils