Workers urged to get more sunlight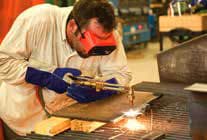 While the sun's UV rays are a hazard to outdoor workers too many Australians, who spend all their working day indoors, are not getting enough Vitamin D.
The first National Vitamin D Awareness Day was held earlier this year aimed at raising awareness about vitamin D deficiency in Australia.
According to research by vitamin supplement provider Ostelin, more than half (54 percent) of the Australian workforce stays indoors all day during winter. And one in five of those workers leave for work or home when it is still dark.
Research shows that low Vitamin D is linked to reduced employee work productivity. It's also associated with some minor conditions that can result in "presenteeism" where employees are present at work, yet demonstrate reduced productivity or performance due to not feeling well.
Insufficient sun exposure and low vitamin D can adversely affect your body's ability to absorb calcium. A diet deficient in calcium can lead to osteoporosis in later life.
One in three Australian adults are vitamin D deficient and over a million people suffer with osteoporosis nationwide.
Office workers are encouraged to "take a D-Break" and step outside for their required dose of daily sunlight to achieve optimal Vitamin D levels.
Rather than having lunch at the desk, workers should consider an outdoor café.
And team meetings can be held outdoors whenever possible.