Workboots for women: Ascent rises to the challenge
31-08-2010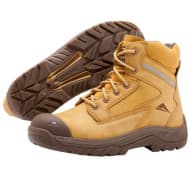 There have been vast improvements in the construction and technology in safety footwear in recent years.
However, an area that has been largely overlooked is in supplying safe, comfortable workboots for women.
With an increasing number of females required to wear safety workboots, Ascent has developed a range of workboots built specifically for women's feet.
Traditionally safety workboots for women have consisted of using a men's workboot and placing less leather on the upper of the workboot to try and reduce the volume (width).
If a shoe is too wide for the foot, the foot will move too much inside the shoe.
This movement can potentially lead to slips, trips and falls in the workplace or even long term injuries.
There have been several studies conducted internationally highlighting the potential injuries women could suffer wearing heavier constructed men's footwear.

Ascent women's range of workboots has been constructed on the shape of female feet – narrow heels, narrow forefoot – and in women's sizing.
This construction of the workboot will help reduce the amount of movement most women are currently experiencing in their safety footwear.
Ascent's workboots are constructed on running shoe technology to provide all day comfort and support.
At the same time they look like a traditional workboot and adhere to the highest safety standards in Australia and New Zealand.
Ascent workboots are available nationally through The Athletes Foot and Protector Alsafe branches.