Women encouraged to choose industry career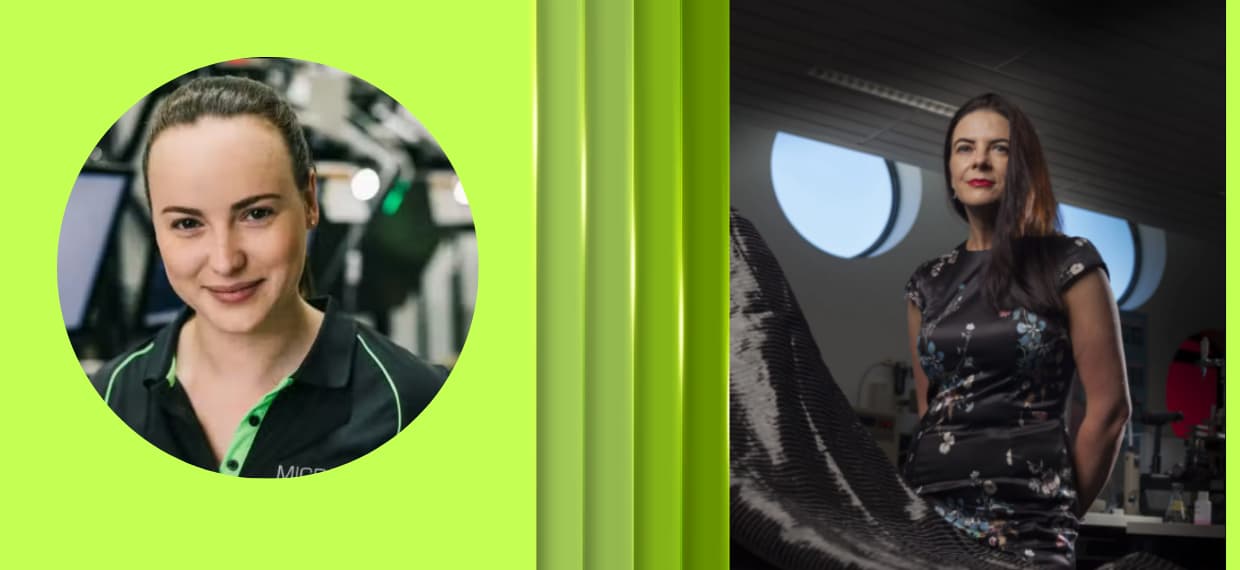 For 2022 International Woman's Day, the Advanced Manufacturing Growth Centre (AMGC) talked with leading female voices  who explained the biases and generalisations when it comes to a career in manufacturing.
According to recent AMGC research, titled Perceptions of Australian Manufacturing, biased perceptions about Australian manufacturing often lead to public debate amplifying false stereotypes. This leads to low student consideration of a career in the industry, particularly among female students.
The research revealed that just 48 percent of younger Australians (16-25 years) viewed manufacturing as important, compared to 75.2 percent across all other age groups (25-65+). Without an accurate understanding of career opportunities and without seeing themselves included in communications about manufacturing, 'mental availability' of students when it came to choosing manufacturing as a career path was limited.
Australia's manufacturing industry provides a diverse range of highly paid and resilient roles spanning the entire manufacturing value chain, including Research and Development, Design, Logistics, Production, Distribution, Sales and Marketing, and Service.
AMGC spoke to eight of its members, all distinguished female leaders in their respective fields spanning research, medical, food and beverage, design, industrial equipment, telecommunications and advanced materials sectors.
Research and Development (including Engineering) – CSIRO
Australia's national science agency, CSIRO,  chief scientist Professor Bronwyn Fox had a passion for music, literature and science growing up, and ultimately decided on the latter as a career.
"One of the big surprises about science and engineering for me was that it wasn't a career where you are trapped in a lab on your own in a white coat, that it was actually all about working in teams,"  she explained..
"I've really loved working in diverse teams where everyone brought their background and experiences to solve a big problem."
Change the world
And why should females consider a career in STEM/Manufacturing? Because it's an enormous amount of fun. You also get to change the world.
Fox added that she had always loved visiting factories. "One highlight was the Boeing factory in Seattle where the 787 Dreamliner is made which is bigger than Disneyworld." 
"The heroes of the 21st century will be the technologists, the innovators, the problem solvers and people who are willing to take a risk to make a difference. Be one of them."
Engineering – Micro-X
A talent for maths and science and the good job prospects attached to the profession led Micro-X, senior mechanical engineer Caitlin Woutersat, to study engineering.
Wouters joined South Australian based Micro-X, a maker of miniaturised X-ray machines, fresh out of university, and says being able to see something progress from an idea to a finished product is highly rewarding.
"You are creating something in the world that people want or need, so that you can really make a difference,"  she explained..
"Working at a company which has manufacturing and design at the same place has many benefits, as you get to not only see through the design process but follow to see how suitable that design is for manufacturing and then all the way to customer feedback."
According to Wouters, the idea of manufacturing as purely physical work carried out in hot, dirty, unpleasant environments is a misunderstanding.
Many items, particularly food and medical goods, are produced in very clean, highly regulated settings, using robotics or automated processing.
"For example, at Micro-X, since we make x-ray tubes, we require a 'clean room' environment when creating vacuum tubes. This involves an extremely clean environment, down to dust and particle removal from the air, and using automated tools like laser welders and machinery that can be very interesting to design and use," she added.
Design – b.box
Victorian based b.box head of product design Lisa Edlund Tjernberg, chose design as her career explaining that it was the perfect combination of art and science. "When I was looking to enrol in university, I came upon a course called 'Product Development & Design,' which sounded like a great blend," she recalled.
She joined manufacturer b.box to be part of a fast-growing company where she could be involved with everything from an idea to a finished product, "in collaboration with many skilled professionals across all the departments. It's so inspiring to be a part of something bigger!"
Increased automation
For a young person considering what manufacturing involves, Edlund Tjernberg explains that production is only one element. Most of the work in her team is in development of a product: "including user research; concept development; CAD development; prototype and testing; design for manufacture; and communicating with the factories – in achieving the right aesthetic, functionality, and quality.
"Also, manufacturing processes these days are being more and more automated, especially in countries where labour is expensive, which would offer some great opportunities in automation, robotics, electronics and mechanics, to name a few."
AMGC, board Member and director of corporate affairs Kelly Godeau noted, "These exceptional female leaders are an example of the incredibly diverse capability which exists in Australia's manufacturing industry. These women represent a model for the 21st Century on what we can achieve together, and to focus on what we do best, which is to approach manufacturing as an enabler of innovation that can change the lives of many and solve great global challenges".