WOMAN DRIVES WORLD-FIRST GREEN ENERGY PLANT
03-08-2015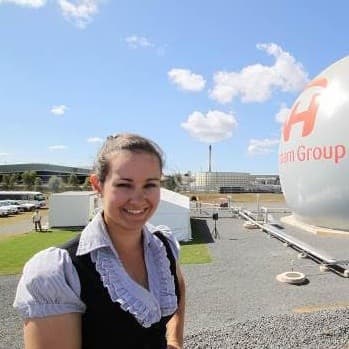 A young Australian woman who operates one of Australia's green energy plants has been hailed as a model for food waste processing worldwide.
The world-first COHRAL™ green energy initiative by the leading Japanese meat processor NH Foods at Oakey Beef Exports in Australia has been praised as an environmental and business efficiency model for food producers worldwide.
Biogas Technician at Oakey Beef Exports, Kelly Hawkins, 24, says she is very content with the responsibility of day-to-day operations of the Global Water Engineering COHRAL™ plant installed by CST Wastewater Solutions plant, which produces high-quality wastewater replacing fossil fuels.
Opened this year by Australian Federal Industry and Science Minister and MP for Groom Hon Ian Macfarlane, the plant replaces millions of dollars of natural gas consumption by extracting methane biogas from the wastewater streams.
"The most satisfying aspect of my role at Oakey is being witness to the technology and processes involved in creating renewable energy within an existing production business," says Ms Hawkins.
Ms Hawkins, who began at Oakey Beef Exports as a laboratory technician, said she was joyed to get the opportunity to be involved with the project, which involves an advanced user-friendly GWE SCADA-based control system operated by a single person.
"Presently we are in the start-up phase of the plant, therefore we are focusing very closely on the parameters of the wastewater (bacterial activity, fats, COD etc.) ...Once all of the parameters have met a happy medium, the plant should be relatively simple to run and we will be able to fine-tune and modify nutrient levels to make both by-products (biogas and effluent) meet optimum targets." Says Ms Hawkins.
The COHRAL™ technology for which she is responsible is applicable to both livestock and cropping operations and uses concentrated anaerobic bacteria to digest 70-85 per cent of the organic matter in Oakey Beef Exports' wastewater to produce effluent of far high quality than typical open lagoons. Closed tank (reactor) designs, where applicable, can achieve even higher digestion levels and efficiencies, with more than 90 per cent achieved in service by GWE plants.
"The technology involved in the installation Kelly operates is a trail blazer for the food and beverage industry," says the man who installed it, Mr Mike Bambridge, Managing Director of CST Wastewater Solutions.
"Globally, businesses are no longer in the position where infrastructure and productivity can be advanced without taking note of the damage it is causing the environment. It is especially exciting that this system is an Australian first" says Ms Hawkins.
With experience, it will be a straightforward for a suitably qualified person, she says –"My major roles within this job are the laboratory analysis and monitoring of the biogas/ wastewater plant, as well as some laboratory work in the abattoir lab continuing my previous role."