Published 04-04-2019
| Article appears in April 2019 Issue
WIRELESS SENSORS KEEP WATCH OVER STRUCTURAL HEALTH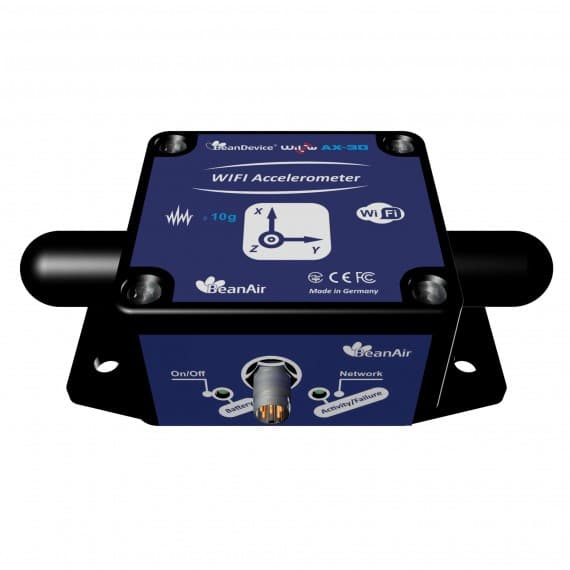 A BeanAir WiLow accelerometer
No matter how strong and reliable it is when it was built, any structure will degrade over time thanks to a combination of environmental and geological factors. Therefore a reliable monitoring system is required to assess the health and condition of crucial structures to determine whether they are still safe for operation.
Strain gauge techniques, when correctly applied, can provide the necessary information. However, the technology has traditionally had limitations when applied in a remote or inaccessible area because of the need for the wiring for the data acquisition system that processes the captured signals and generates the final data.
Fortunately, one of the major enabling technologies of the Industrial Internet of things (IIoT) has been the advancement in the sensor technologies in recent years. And there is now a wide range of wireless sensors available that do not require the wiring traditionally required for data acquisition.
Wireless sensors increase measurement capabilities
Bestech Australia now offers a new generation of ultra-low-power Wi-Fi sensors (WiLow sensors) from BeanAir for measurement of vibration, tilt, inclination and shock.
The wi-fi accelerometer and inclinometer from the WiloW series are already well-accepted in structural health monitoring for civil engineering applications.
These devices offer integrated data logging with up to 5 million data points and are capable of line-of-sight wireless transmission up to 200m.
However, the soon-to-be-released integration of LoRaWan technology will greatly extend the range to 15km with the additional benefit of GPS time-stamping.
Lossless data transmission technology
One issue faced by wireless technology is the potential loss of data during the transmission process, particularly when the network is disrupted during the transmission cycle.
To counter this, the WiloW products integrate a "store and forward" function that works by storing the message transmitted by the sensor to a Wi-Fi access point or receiver where it is stored before forwarding to the next recipient. Alternatively, users can define a hard-real-time option where the data must be received by the receiver within a specified timeframe, or else it will be automatically deleted.
Flexible, smart shock detection
As the pioneer in ultra-low-power Wi-Fi sensing technology, WiloW sensors are set in sleep mode most of the time and only activated once a certain shock threshold is reached. These threshold values can be easily configured up to maximum that the sensor can measure.
Not only does this feature extend battery life as the sensors spend most of their time in sleep mode, it also leads to higher-quality data acquisition as the only data that are recorded and transmitted are those values after the shock threshold is reached.
Real benefits of wireless sensor integration
Remote monitoring sensors, integrated with either Wi-Fi or another wireless technology, offer streamlined monitoring solutions with reduced costs for installation and operation. This makes these sensors ideal for cost-effective structural monitoring in difficult-to-access or hazardous areas, such as the mining industry.
Rapid RoI can be expected after integrating these sensor systems into existing infrastructure. Because there is no requirement for wiring or complex cabling, the sensors can also be quickly integrated into existing system infrastructure using IT-friendly wireless links. (Some cabling may be required to provide a power supply or final data link, but this will be way less than the cost of wiring the whole system.)
These wireless sensors also require little or no maintenance, and so personnel seldom need to physically access the installation. Any anomalies can be directly monitored from the control room, with any necessary maintenance planned and performed in advance of any catastrophic failure.
Bestech Australia
03 9540 5100
www.bestech.com.au