WIRELESS IoT PROTOCOLS: A SNAPSHOT VIEW OF THE TOP TIER
09-03-2017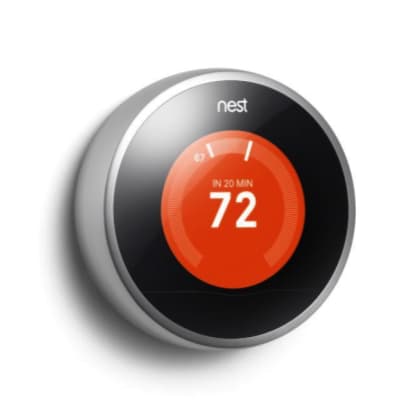 The Thread protocol owes its existence to "smart" thermostat and smoke/carbon monoxide alarm manufacturer Nest Labs
The Internet of things has sparked an explosion in low-power wireless technologies. But which wireless will win? Rudy Ramos of Mouser Electronics looks at the likely contenders.
On 6th December 2016 the Bluetooth Special Interest Group (SIG) officially adopted Bluetooth 5 as the latest version of the Bluetooth core specification. Already a ubiquitous wireless protocol, this latest version of Bluetooth has four-times the range, twice the speed and eight-times the broadcasting message capacity of the previous version (4.2).
The enhancements of Bluetooth 5 focus on increasing the functionality of Bluetooth for the IoT, the smart home, and audio as well as interoperability and coexistence with other wireless technologies plus enhance the re-emergence of the beacon market with the transfer of richer and more intelligent geo-targeted information and data.
IPv6, IEEE 802.15.4, and a personal area network called IPv6 over Low-power Wireless Personal Area Networks (6LoWPAN) used by Thread, ZigBee, and Z-Wave are complementary. The latter two were conceived expressly to serve devices with limited processing power, low datarates, very low RF output power, and minimal power consumption from either mains or battery. This should make device and network design relatively straightforward and cost-effective.
The Thread protocol owes its existence to "smart" thermostat and smoke/carbon monoxide alarm manufacturer Nest Labs, which was acquired last July by Google for $3.2 billion. A month earlier Nest had announced that it was establishing a working group to create an IoT protocol with silicon vendors ARM Holdings, Freescale Semiconductor, Samsung, and Silicon Labs as partners, along with lock maker Yale and Big Ass Solutions (formerly Big Ass Fans, which makes… well you get it).
ZigBee 3.0 is a highly developed mesh network standard operating at 2.4GHz and supported by 400 manufacturers. Its maximum datarate is 250Kbit/s, it's scalable to support thousands of nodes over a distance of about 30m (defined by IEEE 802.15.4 standard), and supports IPv6 and 128bit AES encryption. The "3.0" version integrates all the formerly discrete application-specific versions of ZigBee including ZigBee Home Automation, ZigBee Light Link, ZigBee Building Automation, ZigBee Retail Services, ZigBee Health Care, and ZigBee Telecommunication. The proliferation of these ZigBee variants has been widely criticised by its competitors, which this version will solve.
ZigBee Pro is a new mesh network variant of ZigBee that operates in the 900MHz unlicensed bands as well as at 2.4GHz, can accommodate up 64,000 nodes per network and many times that by linking networks. It is frequency-agile over 16 channels, supports multiple star topologies and inter-personal area networks, spread-spectrum modulation techniques to avoid interference and various transmission options including broadcast. It has a ZigBee Green Power option that allows devices without batteries to join the network, using energy-harvesting techniques such as motion, light, and vibration for extremely low-power operation sources of power.
Z-Wave is a well developed mesh network standard operating around 900MHz (varying by country) that is supported by more than 300 companies, and is designed to provide product interoperability regardless of application, rather than application-specific variants like ZigBee. Its maximum data rate is 100Kbit/s and it can support up to 232 nodes over a distance of about 30m between nodes. It incorporates IPv6 and 128bit AES encryption.
Who will prevail?
Keeping track of all the players in the rapidly emerging IoT market is confusing and complicated by the fact that it seems to change by the week. It seems likely that Bluetooth, ZigBee, Thread, and Z-Wave will continue to compete for a long time, as each has its own strengths and supporters.
Once Bluetooth 5 gains mesh-networking support, all four standards above will have the necessary bits and pieces for the IoT, making support for a particular standard a matter of choice rather than technological superiority.
There are other groups in the USA, Europe, and elsewhere that are developing their own strategies for the IoT, but those mentioned here are a reasonable representation of the top-tier. This non-exhaustive list represents the top players in the ever-changing RF wireless market.
Mouser Electronics
www.mouser.com