WINNING MAINTENANCE STRATEGY IS SAFER AND MORE PRODUCTIVE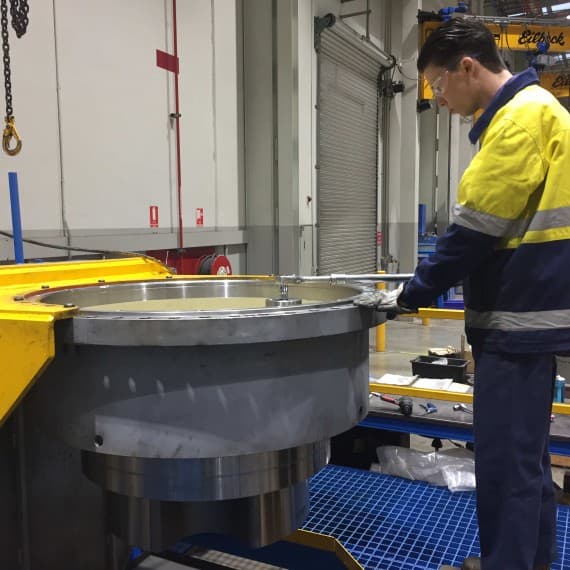 Hunter Valley-based Komatsu Mining Corp has won the icare aware award for June, recognising continuous improvements to workplace safety for the company's 120-plus employees while making valuable productivity gains in the process.
"Manufacturing is the largest employment sector in the Hunter region with over 11,600 employees," said Jason McLaughlin, icare's General Manager Injury Prevention and Pricing. "However, the Hunter manufacturing industry has a workers' compensation claims frequency of 54 per thousand employees, a rate 93 per cent higher than the NSW manufacturing average of 28 per thousand employees."
"It's great to see a Hunter region employer like Komatsu Rutherford encouraging their workers to come up with innovative ways to make their working day safer. Komatsu's experience is a great example of how manufacturers can make small improvements in safety which lead to big efficiency gains," McLaughlin added.
"By simply looking at things through a safety lens, not only has Komatsu Rutherford prevented potential injuries, they've also saved three hours of time on a task: a valuable efficiency gain that will improve productivity well into the future," he said.
The staff at Komatsu's Rutherford facility conduct service work on mining equipment. And it was the employees themselves that came up with an idea to improve a process that posed a potential safety risk.
When required to strip back parts of machinery and motors on earthmoving equipment, workers needed to stand on a temporary safety step and spend four hours manually rotating a tension wrench.
This was increasing the risk of repetitive strain injuries, as well as slips and falls when workers stood on the step to complete the task.
To mitigate this risk, employees came up with the idea of fitting a geared motor to drive the shaft. And they went on to design and build a jig to support the motor, removing manual the handling and ergonomic hazards involved in the task.
The new maintenance routine is also quicker. The process now takes less than one hour, rather than three to four hours, improving production efficiency by up to 75 per cent.
Campbell Saunders is Komatsu's Environment, Health and Safety Manager at Rutherford. He says: "We encourage our people to think outside the box and being safety-aware is further evidence of a strong safety culture throughout Komatsu."
icare
www.icare.nsw.gov.au