Published 21-04-2020
| Article appears in April 2020 Issue
WINNING COMBINATION FOR HEAVY DUTY APPLICATIONS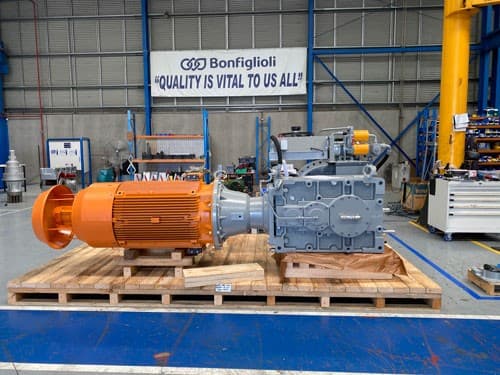 Heavy duty planetary gearmotor leaders Bonfiglioli have broken the mould with their new Combo Unit, for use in apron feeder applications.
Combining Bonfiglioli's reliable HD series with their robust, best-selling 300M series planetary geared motor, the Combo Unit is a cost effective and lightweight power transmission powerhouse.
The Combo Unit was born during a recent project, when two of Bonfiglioli's heavy duty gear units were merged to meet the needs of the job.
"This particular project was for an apron feeder, which typically requires low speeds to transport heavy materials," says Bonfiglioli managing director Martin Broglia.
"In mining, apron feeders ensure smooth operations and increased uptime. The durability and reliability of the products used in an application like this are crucial."
With its modular design and versatility, Bonfiglioli's 300M planetary series is the perfect choice for heavy duty applications.
"The 300 series can withstand the harshest environments without the need for downtime," Broglia says.
"The planetary gearbox achieves top-class flexibility thanks to several outputs, as well as input configurations available for all 20 sizes."
A wide range of electric motors, also available from Bonfiglioli, complement the 300M series.
"Asynchronous motors (BN-BE-BX/M-ME-MX) can be coupled with 300M series gearboxes, providing our customers a complete solution."
The HDX series is Bonfiglioli's heavy duty range of geared motors, and is available in helical parallel shaft (HDP) or bevel (HDO). The HD series can operate in harsh, even explosive atmospheres thanks to high quality materials and well-optimised design.
"Bonfiglioli is well placed to assist customers with their heavy duty applications," Broglia says.
"We've seen more orders for these units as market confidence has grown."
The Bonfiglioli apron feeder makes use of their new Combo Unit, designed and assembled at their production unit in Sydney. In-house service and spares are available locally.
Bonfiglioli
02 8811 8000
www.bonfiglioli.com.au