WINKELMANN DEVELOPS VIBRATION DAMPERS FOR JAGUAR
11-11-2015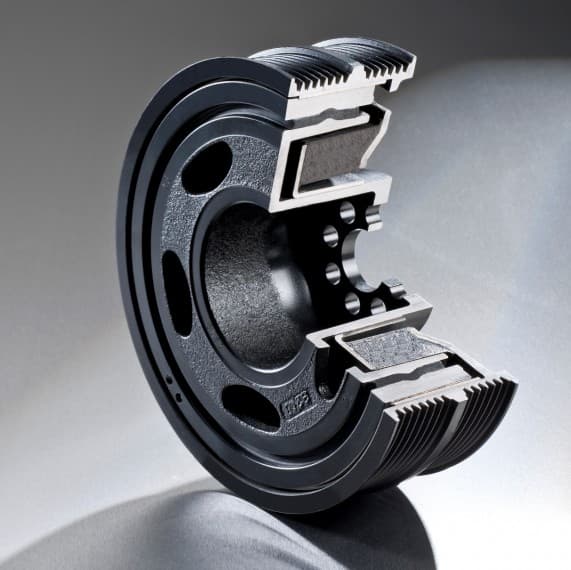 Some car components really do keep a low profile. You'd only notice how they function if they weren't there. Vibration dampers are a good example, reducing unwanted vibrations produced by engines and drivetrains.
Winkelmann Automotive in Ahlen in Westphalia, Germany is a development partner and system specialist when it comes to vibrations and how best to dampen them.
High-quality vibration dampers are not just made of steel but also oils, thermosetting plastics and elastomers with enhancing damping qualities. Winkelmann develops each vibration damper specifically for a vehicle's vibrations.
Winkelmann has developed a vibration damper with two elastomer components for the drivetrain of Jaguar cars; to be technically precise, this component is a torsional vibration damper with an integrated, decoupled belt pulley.
This assembly, comprising 10 metal parts, is supplemented with a pressed EPDM rubber ring and a hybrid, bonded EPDM-Metal part. The assembly weighs a total of 2.99 kg.
In addition, rubber-metal composite parts for decoupled belt pulleys are manufactured as bonded vibration dampers. These are produced on a vertical MTF 2600/280 ergonomic machine from Maplan with "Fast Double Shuttle" technology and moulds from Peta Formenbau.
By means of intelligent needs-based control of the flowrate, energy consumption of the DCI heating and cooling units on the Maplan MTF 2600/280 machines has been reduced by up to 80 % while at the same time considerably improving quality control.
The CoolDrive servo-hydraulic technology provides additional performance for rapid drying cycle times with even less energy requirements, resulting in a more environmentally friendly system with lowered production and unit costs.