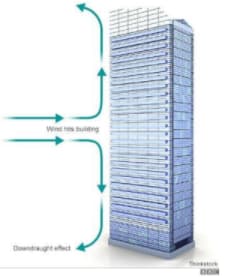 Crowded cityscapes are benefitting from a look that is more than 100 years old – the revolving door.
Architects internationally have known for a long time about the benefits of revolving doors, but some Australasian engineering and architectural specifiers say more of their clients are now starting to appreciate more how this "always open, always closed" concept can benefit their building's operating efficiency, risk management and protective comfort.
Australia and New Zealand each have particularly windy cities, with Perth being one of the windiest capitals in the world. "The wind tunnel issue has been exacerbated as urban densities have increased and tall buildings have become the norm," says Boon Edam Australia Managing Director Michael Fisher. "Increased awareness of the safety, sustainability and Duty of Care risk management of wind-prone buildings may be happening in part because of increasing awareness of climate change. This is bringing more windstorm and weather events – against which revolving doors give an extra layer of protection."
"Revolving doors are beneficial where there is a wind tunnel effect where surrounding buildings are close together and where taller ones create wind canyons. Really tall buildings have multiplied across the face of Australia and New Zealand, where there are already more than 20 buildings over 200m and more planned nearly double that height."
Boon Edam's larger revolving door designs – including Duotour and Tournex types, are used in many of the world's Fortune 500 company buildings.
"There are the ongoing power savings – we have observed companies pumping air warmed to 40 deg Celsius into their buildings– only to see the overall temperature stay below half that temperature as all that expensive air is pumped out the front door. The same thing happens in reverse on hot days."
Prevention of HVAC (heating, ventilation and air conditioning) losses through inefficient doors is integral to sustainability and the efficiency of green buildings, because HVAC costs are often the single biggest major costs of operating a large building," says Mr Fisher.
Boon Edam and European sliding door specialist Gilgen, have combined in a partnership in Australia that will bring building specifiers here wider choice and more service. Both Gilgen and Boon Edam are introducing to Australia new designs for general and specialist markets.