Win the safety war with Warrior gloves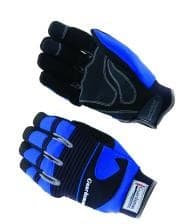 VisionSafe's Guardsman range of protective work gloves are designed to suit a wide variety of applications and workplace needs. 
Comfort and style have been retained without sacrificing safety and user dexterity. A work glove needs to both protect the user without restricting their ability to perform an extensive range of tasks with a degree of precision. 
With these pressures in mind the VisionSafe team developed the Warrior – the heavy-duty work glove that is light and easy to wear.
Offering maximum protection and comfort, the Warrior is a fully lined glove well-suited for heavy duty applications. 
The tough synthetic leather palm and finger pads ensure durability in hard-wearing areas. Neoprene knuckle pads provide superior protection to the user against the accidental scrapes and knocks that will occur during any job. 
The spandex and Lycra support fabrics enable maximum dexterity and a comfortable fit. A snug fitting wrist lock ensures that the glove stays firmly in place on the hand even while under pressure.
The Warrior is available in a full range of sizes from Small to 2XL. 
It is machine washable, making cleaning and maintaining the glove a breeze. 
VisionSafe 
Ph: 08 9295 0624