Why you should switch to LED lights
31-08-2010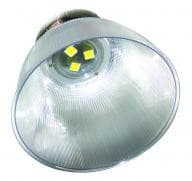 Bright idea … LED High Bay lighting from Cable-Loc
According to Rod Tunley, Director of Cable-Loc Electrical Accessories, it pays to use LED (Light Emitting Diode) lighting.
The key to LED lighting is reduced power consumption and a longer life span, Mr Tunley says. 
That means significant savings in electricity bills, lamp replacement and operating costs. 
"Who wouldn't want that for their business, especially in today's economic climate?" says Mr Tunley.
Unlike metal halide lamps that contain a mixture of gases under extreme pressure in glass housings, LEDs have solid state components and employ an electronic chip fully protected by a highly durable epoxy capsule. 
Mr Tunley says LED lighting is also a much safer choice because of its minimal heat emission. This significantly reduces the chance of catching fire and burn-related injuries in the workplace.
Based on the average running cost of 15c per hour, 24 hours a day, 365 days a year, switching from metal halide to LED High Bay lighting can save you over $1300 per year – per light, Mr Tunley says. 
Given the average number of lights installed in warehouses and factories, this leads to significant savings in installation and maintenance costs as well as the obvious savings in running costs.
High quality LED lights have a life expectancy exceeding 50,000 hours, while the life expectancy of an incandescent bulb is about 1200 hours and compact fluorescent (CFL) bulbs last about 8000 hours.
"Unlike CFL bulbs, LEDs do not contain mercury or any other toxic or hazardous materials and are therefore environmentally friendly and safer and easier to recycle, says Mr Tunley. "This is a big plus as we are all trying to do our bit to reduce our carbon footprint." 
"Installing LED High Bay lights will save you labour costs, reduce your cooling costs and improve productivity in the workplace."
Mr Tunley predicts LED lighting will eventually be used to replace almost every type of light, bulb, and lamp currently in use.
Cable-Loc Electrical Accessories
Ph 1300 722 275