Why you should change to Eco LED tubes and downlights
31-08-2010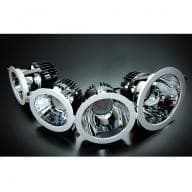 Did you know that Eco LED tubes use half the power of standard fluorescent tubes?
LED tubes and downlights from Tenrod can significantly reduce your energy costs.
They offer long life (35,000 hours) with no maintenance and no new fittings needed.
Also, there are no mercury spills to contaminate your goods.
Eco LED tubes deliver steady light with no "strobing" and less eye fatigue.
And with LED down lighting there is no piercing glow of metal halides and no unshapely CFLs.
LED down lights and track lights from Tenrod can give you a smooth single diffuse glow spot, with longer life (35,000) and instant full brightness.
Mercury and lead free, they are ideal for offices, cafeterias, retail and large halls and work areas.
Tenrod also supplies a broad range of High Bay lamps for industry. These give instant full brightness with no restrike time.
And most importantly, they can substantially reduce energy bills.
Tenrod
Ph: 02 9748 0655