Why walk when you can ride?
21-08-2013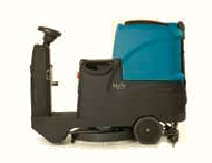 Why walk when you can ride-on the world's most affordable ride on scrubber?
The Conquest MXR boasts productivity increases of 43 percent compared to traditional walk behind units.
The MXR also offers operators ride-on comfort and large built-in tanks. This reduces the number of refill stops and allows you to carry more solution while traveling at greater speeds – saving time, effort, and money.
Conquest MXR has a cleaning path of 560mm and 70L tanks, with a cleaning capacity of 3000sqm an hour.
Built-in ECO-mode operators ensure high quality and consistent cleaning results.
The Conquest MXR is set to take over from the traditional walk behind scrubber, reducing cleaning costs and changing cleaning methods.
Conquest Equipment Technologies Pty Ltd
Ph: 1800 826789