WHY USE ATEX COMPLIANT CRANES IN HAZARDOUS ENVIRONMENTS?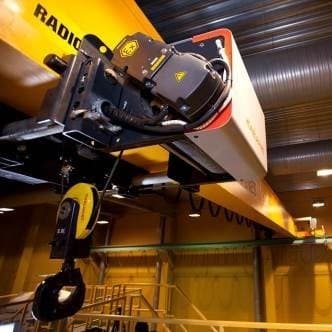 Cranes and hoists often operate in hazardous, dangerous and potentially explosive areas, where a single incident can cause significant, personal injury, damage, downtime and loss of income or production.
In addition to being indispensable to manufacturing, processing and distribution operations – where often, if the cranes stop, business stops – cranes and hoists are also regularly lifting valuable pieces of equipment, or are next to or above valuable machinery and plant.
An explosion or failure of a crane can cause even greater collateral damage to these, compounding the problem for a host of industries encountering or using flammable substances, chemicals, vapours, gases from liquids, volatile substances and dust.
Industries commonly affected, include bulk handling and distribution, transport, including road and rail logistics and ports, chemical processing, energy, food and beverage, manufacturing, logistics, mining and mineral processing, oil and gas, materials handling; mechanical, production and process engineering, industrial logistics; water, waste water and biomass recycling.

In these environments, safety is paramount. As a leading global crane manufacturer and the world's largest crane service organisation – with more than 450,000 pieces of lifting equipment of all brands under service agreement worldwide – Konecranes has extensive experience in explosion-proof and ATEX and IECEx compliant cranes.
Konecranes manufactures its EX ranges to the globally respected ATEX and IECEx compliance standards aimed improving the health and safety protection of workers potentially at risk from explosive atmospheres.
Konecranes expert David Wilson, Industrial Crane Sales Manager, believes there are five major reasons why companies should always specify an ATEX and IECEx approved crane in hazardous environments.
Safety
The single most important reason to specify an ATEX and IECEx approved crane is safety. Without the proper cooling systems in place, a crane's engine may reach very high temperatures and cause minor sparks that are harmless in other situations, but deadly in explosive environments, where vapours, mist, dust and other contaminants can react with a single spark with devastating consequences.
In dusty environments, it's also essential to have motors and engines completely covered, to avoid flammable dust particles coming into contact with a heated area. Non-ATEX and IECEx approved lifting equipment may have these safety features, but ATEX and IECEx approved equipment confirms it.
Compliance
ATEX and IECEx are living things – they are constantly being expanded and improved, so companies need to learn the latest requirements and to incorporate them into their duty of care. In many regards, this can be a specialised and expert process, which many companies choose to ascribe to experts such as Konecranes. The ATEX directive also gives strict rules for constant production and product quality follow-up.
For Konecranes, having that certificate is an assurance to customers that the company is doing everything possible to provide them with the highest levels of safety and compliance. The company has multiple certifications to substantiate the quality of its products: IECEx for the world, ATEX for Europe, CSA US for the USA and INMETRO for Brazil.
It makes good business sense to do so
The small initial saving you might make up-front buying a non-ATEX and IECEx certified crane will be dwarfed by the costs and downtime if an explosion or incident occurs, where you could be looking at replacing the crane, replacing other machinery, loss of inventory and significant downtime. And even more important than this, a worker may have been injured in the incident.
Konecranes understands that staff are any company's most valuable asset and designs cranes to the highest levels of safety to minimise any risk to human life.
It avoids additional risk
In addition to the safety risks outlined above, there may be liability issues for crane operators and owners if they were aware they were working in a potentially high explosive environment in industries such as petrochemicals, power and gas, steel, mining, ports and infrastructure, pulp and paper, general manufacturing or automotive and didn't select a crane with ATEX and IECEx certification.
If a person is injured and finds out that an ATEX and IECEx certified crane was needed for that environment, there may be legal consequences for the owner/operator.
You get the most out of your crane
Design life for ATEX and IECEx compliant cranes is as good, or better because maintenance of these cranes has to be subjected to additionally close scrutiny. In order to maintain compliance with ATEX and IECEx regulations, these cranes have to be regularly inspected, serviced and quality control checked, which means there is a high level of traceability and a lower chance of problems occurring that would reduce design life.
While Australia has an exceptionally good safety record and culture when it comes to equipment like cranes, it still adds further value to have constant traceability and to optimise the efficiency and design life of the crane.
As the leading crane service organisation in the world, Konecranes performs Crane Reliability Studies, inspections, service and maintenance on all makes and models of crane. Konecranes technicians are well versed in all aspects of compliance, and are constantly updating their knowledge of ATEX, IECEx and other important standards.
For hazardous and explosive environments, Konecranes believes specifying an ATEX and IECEx approved crane is essential. The company operates under the slogan 'hooked on safety' and every product it produces or services has safety as a core focus. For Konecranes, if you see a product with EX in front of it, you know that it has been certified for use in explosive environments, often with multiple certifications.
These products have the same features and advantages as the regular ranges, but with additional safety features to safeguard them in explosive environments. These additional features include special continuous temperature control; thermal protection; sparkproof, flameproof and dustproof covers; enclosed parts; electrical enclosures; overload switches; pushbuttons and limit switches.
Konecranes
1300 937 637
www.konecranes.com.au